The world's most complex underground railway construction is underway!
Deep and exclusive access to an underground adventure that echoes Brunel's Golden Age of British engineering.
In January 1863, the city of London held a huge subterranean banquet to celebrate the first underground railway. One hundred and fifty years later, the world's most complex underground railway construction project is underway in London.
Crossrail will cost 16 billion pounds and is the largest ever construction project in Europe. this new railway will stretch 118km from Maidenhead, under central London to Abbey Wood in the east. A vast army of 14,000 engineers, architects and construction workers has been hired to build it.
Windfall Films has secured exclusive access to this project, enabling viewers to witness engineering history in the making. this series will follow a small group of specially chosen characters who will live and breathe the Crossrail tunnel over the next 18 months.
Tunnelling exposes people to intense heat, pressure, dust and claustrophobia. Sudden depressurisation and fire are real hazards. those who put their lives on the line understand the risks, but they also reap the rewards. there are huge bonuses for completing the work on time. The penalties for over-running are so severe that the construction companies do everything in their power to ensure it never happens - and it rarely does!
Not surprisingly, the people who do this work are great characters who form a very close-knit group underground. We will chart their progress 30 meters below London's busy streets as they carve out 42km if tunnels; weaving their way around underground obstacles, including graveyards. unexploded bombs and the River Thames. The twin-tunnels will be a massive 6m in diameter - twice the size of the existing Underground tunnels. Meanwhile, above ground, we'll see dramatic transformations as entire blocks are demolished to make way for cavernous new stations.
We will get to know our small cast of characters as they deal with each new problem the tunnel throws at them. It could be archaeological finds like ancient shipwrecks or human remains; major flooding or massive machine breakdowns. whatever the problem, the clock does not stop. They are under pressure in every sense of the word.
London's Super Tunnel starts 7.30pm, Sunday 22 November, SBS ONE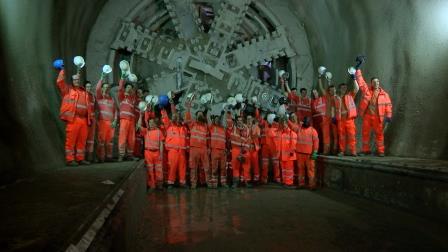 top