What in the world are you eating?
How much food is 700 billion dollars?
01 October 2008 | 9:37 - By Phil Lees
When Wall Street Journal makes the pronouncement that Wall Street is dead, it is time that food writers take the crisis in the Western economy seriously. The 700 billion dollar amount pitched as a bailout is bound to bring out a food metaphor.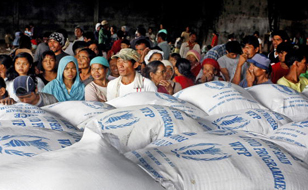 According to CNN, it is 2000 McDonald's apple pies for every single American.

700 billion dollars buys an unimaginable amount of food, which is why the apple pie metaphor sticks. It breaks it down into a more manageable number. 2000 commercial pies brings forth an image of a man with a large but conceivable pile of steaming Americana. It brings it back to a human scale. As a small aside, America only produces around $1.6 billion worth of apples every year, so it would take until the year 2445 for them to grow $700 billion worth, all other things being equal.
It's too bad that finance writers never reach for the top end of the culinary spectrum. How many black truffles per American will that buy? (5 kilos) How much foie gras? (31lbs, whole lobes).
Chef Ferran Adria runs one of the most lauded restaurants in Spain, El Bulli. Their cuisine, based on a breaking down structure of classical dishes and uncovering new techniques, generally falls under the rubric of "molecular cuisine". Each menu takes his team six months of experimentation to perfect. For their set menu, a single sitting will leave your wallet 155 Euros a head lighter.
For 700 billion dollars, I could shout a meal at El Bulli for every person in the world's 5 most populous nations, 27 exquisite courses for all of China, India, USA, Indonesia and Brazil,. As El Bulli only takes 2000 bookings per annum, it would take 1.5 million years to feed them all.
At the other end of the food economy, the entirety of the UN costs around $15 billion dollars a year to run. Of this, about $3 billion goes to the World Food Programme which they use to assist 86.1 million people in 2007, a measly percentage of the 850 million undernourished people on earth.
Based on the sort of efficiency that the World Food Programme currently achieves, 700 billion dollars would feed the entirety of world's hungry for 23 years, provided that the leagues of the world's undernourished don't continue to expand (which they most certainly will). Especially with an economy in crisis.
top
About this Blog
A blog about what the world eats, when and where it eats it, and why it matters to us all. Only much less ambitious than that sounds and with more excruciating puns.

Phil Lees grew up in rural Victoria, the first generation in his family to not have lived on the farm and thereby not slaughter their own meat.

In 2005 he moved to Cambodia and started the nation's first food blog, Phnomenon.com, named after the best pun that he has ever made. It turns out that Cambodian food is delicious and unlike the warnings in most guidebooks, is not likely to kill you with any immediacy. Gridskipper called him a "national treasure". Lonely Planet's Greater Mekong guide called him "the unofficial pimp of Cambodian cuisine". The New York Times laughed at a funny hotdog he saw.

Phil makes a mean sausage, a hoppy pale ale, a modest laksa. He owns three barbecues and is in the market for a fourth.

TV
Food
Films
Documentary
World News Australia
Sport
About SBS
Business
Internet and Technology
Cycling Central
Festival Reports
Tour De France