What in the world are you eating?
Kin Jay: Thailand's half-hearted vegetarian festival
09 October 2008 | 14:37 - By Phil Lees
Today marks the end of Kin Jay, Thailand's vegetarian festival, the most half-hearted display of vegetarianism that the world has to offer. Slightly more half-hearted than semivegetarianism.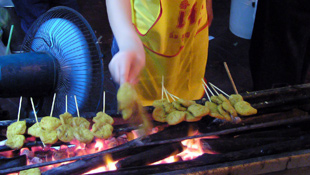 For the nine days after the first new moon in the ninth month, much of Thailand's ethnically Chinese population forgoes meat for vegetables in the name of purification and annual atonement. To use a mixed religious metaphor, it's Lent for the Taoist apostate. On the island of Phuket, ascetics also practice self-mutilation but for the bulk of the believers giving up meat is enough.
But not really giving it up.
If you take a quick stroll around Thanon Yaowarat in Bangkok's Chinatown, you'll know why. Faux meats abound. Ducks carved from naught but wheat gluten. Slices of ersatz chicken on skewers replace the real deal upon the narrow satay barbecues. Tubular segments of mock intestine and slices of I-can't-believe-it's-not-lung inveigle their way into fried noodles and soups. The festival doesn't seem to be about giving up meat, but more about finding something different to carve into the shape of meat. There is a conspicuous lack of anything green or fresh. If you ate like this for the entirety of the year, you'd succumb to one of those diseases no longer wholly familiar in the developed world, like scurvy.
The festival is unlike others that celebrate green matter because rather than rejoicing the bounty of a successful harvest or a particular tasty variety drifting ethereally into season, the festival seems to taunt the penitent with a constant jibe that faux-meat is a bad substitute for the real thing. There is also a tendency to reach for the deep fryer, which is hardly the most purifying or atoning of cooking methods. Which makes me wonder, what is the purpose of a vegetarian festival aimed entirely at meat eaters, where vegetables are not a highlight?
Thailand-based food photographer and author, Austin Bush's coverage of the festival this year leads him to notice that much of the eating is not done on the streets but for takeaway. He says:
Another odd aspect of the festival is that Bangkok's entire Chinese community seems to collectively decide that it's not capable of cooking at home during the 10 days, and instead buys every meal 'to go' from a truly remarkable number of street stalls.
The purpose of Jay seems to be not necessarily enjoying the bewildering array of mock meat but to get out of the house and be seen to be enjoying it, which is a tantalizing clue to the popularity of the festival. In an essay on Chinese culture in Thailand, Annette Hamilton answers:
The Vegetarian Festival is one example of the many religious and cultural practices that have, since the late 1980s, provided an increasingly important framework for resurgent "Chinese" identity in Thailand. Such collective, public, and highly visible events create a context, in part imagined but viscerally real, linking "Chinese" in Thailand with all "Chinese".
The Thai Vegetarian Festival is not about vegetarianism but is an affirmation that you are not what you eat, but how and where you eat: in public and with people who want to be seen to be alike and connected.
Annette Hamilton is in Rogue Flows: Trans-Asian Cultural Traffic, Hong Kong University Press, Kōichi Iwabuchi, Stephen Muecke, Mandy Thomas (Eds.), p.38
top
Comments (2)
About this Blog
A blog about what the world eats, when and where it eats it, and why it matters to us all. Only much less ambitious than that sounds and with more excruciating puns.

Phil Lees grew up in rural Victoria, the first generation in his family to not have lived on the farm and thereby not slaughter their own meat.

In 2005 he moved to Cambodia and started the nation's first food blog, Phnomenon.com, named after the best pun that he has ever made. It turns out that Cambodian food is delicious and unlike the warnings in most guidebooks, is not likely to kill you with any immediacy. Gridskipper called him a "national treasure". Lonely Planet's Greater Mekong guide called him "the unofficial pimp of Cambodian cuisine". The New York Times laughed at a funny hotdog he saw.

Phil makes a mean sausage, a hoppy pale ale, a modest laksa. He owns three barbecues and is in the market for a fourth.

TV
Food
Films
Documentary
World News Australia
Sport
About SBS
Business
Internet and Technology
Cycling Central
Festival Reports
Tour De France