King of the Mountain
17 October 2008 | 0:00 - By Matthew Hall
Javier and I had a plan.
It was the sort of plan usually concocted over maybe 25 beers during a long night.
Alas, we had no such excuse. Javier was drinking a hot chocolate and I'd downed just one beer.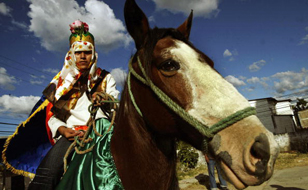 We were sitting in a cafe last Tuesday night in a small town called Concepcion de Ataco, about two hours in good traffic from San Salvador, El Salvador's capital city.
"Do you like football?" asked Javier.
"Of course," I replied.
"The national team are playing tomorrow night in San Salvador," he explained.
"It's a World Cup qualifier. Against Suriname. If we win, we have a chance to qualify for the next stage of the World Cup. If we beat Suriname, we only have to beat Costa Rica."
Ah, Costa Rica. The mighty Costa Rica, as its team is known across Central America.
Ah, Suriname, the tiny country (even tinier than tiny El Salvador), once a Dutch colony, that had provided much football talent to the Netherlands' national team.
Javier reminisced about days and nights spent at El Salvador's national stadium - where the game against Suriname was to be played.
According to Javier, it was an "interesting" stadium.
If you dared walk around with your girlfriend you'd normally be bombarded with half-eaten food. Heaven forbid if you attempted the same promenade with your wife. Maybe in El Salvador, she is better left at home.
From the cheap - high - seats, fans would drop plastic bag piss bombs onto spectators below (this happened to me once at Guadalajara's Estadio Jalsico - it just missed).
A section of the ground was known locally as "Vietnam" because of the strange and exotic things that went on there. That's El Salvadorian humour.
For someone with a love affair of sporting events in obscure locations, El Salvador versus Suriname, sitting in "Vietnam", was a must see. In my mind, at least (if not quite Javier's), the plan was set in stone for Wednesday night. We would head to San Salvador and the game.
Unfortunately, we hadn't counted on Roy.
Roy was Javier's friend. His name was short for Le Roy. Not Leroy but Le Roy.
Roy was local and a top bloke except that he seemed keen to kill me.
By day, Roy ran a fledgling tour company for El Salvador's few tourists (by night he was one of only two certified falconers - as in hunting birds - in El Salvador, but that's another story).
Roy was keen to show just what his tours involved. It must be understood he was not about laid back visits to pleasant tranquil villages and peaceful museums. Roy was all get up and go.
In the space of 24 hours, he taught me how to surf, ride a horse, and made me follow a guy called Santiago down a mountain on a bike. He also fed me six times.
Surfing in El Salvador? Who knew? And for a guy born and bred on Perth's white beaches there's more El Salvadorian humour in the fact it took a guy from a previously war-torn Central American country to teach the ups and downs of the perfect pop-up.
"What's your experience like on a horse?" Roy asked, after I mastered a very, very, gentle beach break.
"Terrible," I lamely explained, as Roy saddled up with me expecting to be led around a paddock on a donkey.
But this is Roy we are talking about.
Before I could say "Vamos", I was galloping up a mountain like a Spanish conquistador (without the murder, rape, and Jesus part) or Don Quixote, I'm yet to work out which.
But my horse, bless her, had other ideas. After an hour of climbing up rainforest trails she'd had enough. She stubbornly stalled for time and after a (gentle) kick in the ribs decided she'd throw me from the saddle. So she did.
What goes up must come down, of course. Roy suggested we leave the horses at the mountain summit and ride bikes to a village at the bottom.
I'd previously scoffed at claims that riding a BMX bike was "sport" or that such frivolity should be considered an Olympic event. I now formally apologise to anyone associated with mountain biking. If the horses hadn't got the title already, mountain biking would be the sport of kings.
I eventually returned to Earth but not after, sometimes at 180 degrees, dodging potholes, tree trunks, boulders, and cliffs at high speed. The locals were bemused as we rode a victory lap of their town. Why would anyone ride a bike down the mountainside?
Or maybe it was the helmets and knee pads that made us look like Ninjas.
But by now, San Salvador and the game against Suriname was far away.
"You know El Salvador holds the record for a World Cup defeat?" Roy offered.
"We lost 10-1 to Hungary in 1982."
I recall Javier shaking his head but, in truth, I wasn't listening. It was 8pm, time for kick-off, but like an eight-year-old, I was ready for bed.
El Salvador (and Roy) defeated me.
While I slept, El Salvador beat Suriname 3-0. The World Cup dream was still alive. Javier and I still had a plan, it seemed.
Next time, Roy, we're going to "Vietnam".
If you're travelling to El Salvador, look up Roy and Javier at www.cadejoadventures.com
For those who know about these things, follow me on Twitter at www.twitter.com/matthew_hall
Disclosure: I was in El Salvador as a guest of the Ministry for Tourism.
top
About this Blog
Sport, without spin, from around the world. Matthew Hall considers the issues behind the headlines and tells the stories that others don't.

Matthew Hall Sport, without spin, from around the world. Matthew Hall considers the issues behind the headlines and tells the stories that others don't. Matt is a writer, author, and filmmaker, originally from Perth, he now lives in Brooklyn, New York.
TV
Food
Films
Documentary
World News Australia
Sport
About SBS
Business
Internet and Technology
Cycling Central
Festival Reports
Tour De France