Dakar dreams do come true
04 December 2008 | 12:11 - By Christophe Barriere-Varju
Dreams. Challenge. Inspiration. These are three powerful words that are with us from the moment we commit to enter the most gruelling race on the planet, the Dakar Rally.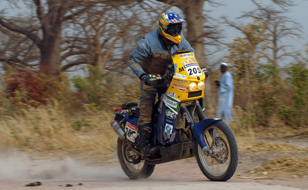 As the name of my not-for-profit organisation suggests, I truly believe that "Dreams Do Come True."

What else is there in life if individual dreams are not fulfilled? I also believe that anything is possible in life, we are all equal, and living our dreams equates to a life with no regret - where every day leaves a print in your mind, a moment to remember.

In my case, I came to a point where I needed to reignite, to begin anew, to relive some past emotions and experience new ones.

Racing the Dakar Rally seemed like an unachievable goal, and it looked like it at first. But since nothing is impossible, and since Dreams Do Come True, in 2005 I said to myself "I am doing it". Then the challenge began!

The first challenge that I had to overcome was the danger of the race, as I quickly found out in 2006. It is a dangerous event, but the danger is not the event itself, the danger is created by us.

After all, we as racers decide how close we wish to stay to the edge of our physical, mental and emotional limits. Those will dictate how close to the danger zone, to the red zone, we enter.

The danger has nothing to do with the event or the landscape we cross, the danger zone is created by how far we push ourselves, and how prepared we are to deal with the elements thrown at us everyday for 10-14 hours daily over two weeks.

Thrill, adrenalin, emotion

With no contacts to their loved ones, families stare at the GPS dot transmitted from our Iritrack system to their computer screen, hearts filling up with emotion each time the dot stops as anything could have happened, with big sighs of relief when the dot moves again.

This is what racers seek. The thrill, the adrenalin, and the new emotions we want as a reward.

There is no quantifiable reward at the end of the race, only a finisher's medal. This is not a race for money or glory. It is a race that defines who we are as individuals, a race that requires part of us to come to life that you never knew existed in the first place.

It is a voyage of self-discovery. And what a reward that is.

As a privateer, we are faced with the prohibitive cost of such an event. A major challenge to overcome, and this is the first test, a pre-requisite in itself, and the will to do what it takes to live a single dream that may or may not get fulfilled.

You learn the meaning of the word "sacrifice" very early. This sacrifice period lasts for a long time, sometimes years, where every penny saved counts.

Forget the restaurants, the drinks with friends. All non-necessary expenses are eliminated. Living a simple life in order to get the budget to compete is a victory in itself. Participating in the race is the reward.

Finally, the Inspiration. This is the footprint we leave to the people closest to us, and also to the 300 million viewers across 180 countries.

Dakar racers inspire people. We appreciate multi-cultural environments not only in the countries, towns and villages we cross every day, but within the close Dakar family we share for a 16-day period.

We are all different, coming from all parts of the globe, yet so much alike. We have the same dreams, we seek the same challenges, and we inspire each other to reach new limits.

My Dakar 2009 story

I invite you to follow the 2009 Dakar Rally on SBS Television and on www.sbs.com.au/dakar.

Follow my story as I travel through Argentina and Chile, and experience the true emotions, the beautiful scenery, racing above the clouds at altitudes of 4,000 metres, across the Atacama Desert – the driest desert on earth, over the tallest dunes in the world standing at 500 metres.

When you watch the highlights on SBS and read my daily blog online, think about the sacrifices all Dakar racers have had to overcome to be there.

Taking on the huge costs involved, racing with broken ribs or ankles, and avoiding seeing doctors for fear of being withdrawn.

Think about the last rider to cross the line who will spend more time than anyone else riding across 9,500kms functioning on just a few hours sleep each day.

Each Dakar competitor is a winner for being there, with the same goal - to make their dreams come true.
top
About this Blog

Christophe Barriere-Varju Christophe Barriere-Varju is one of the world's leading off-road motorcycle racers.
He competed in the 2006 and 2007 Dakar Rallies, and is set to take the challenge once again in 2010. Christophe also runs a charity foundation called Dreams Do Come True, which helps others - especially disadvantaged children, achieve their goals. Born in France, raised in West Africa, and completing his education in California, Christophe now resides Down Under and is a rider for Team Rally Australia.


TV
Food
Films
Documentary
World News Australia
Sport
About SBS
Business
Internet and Technology
Cycling Central
Festival Reports
Tour De France