Training for the unknown
11 December 2008 | 9:00 - By Christophe Barriere-Varju
Training for the Dakar Rally requires serious physical effort. This is a race that requires every ounce of energy available, but how do you train for the unknown?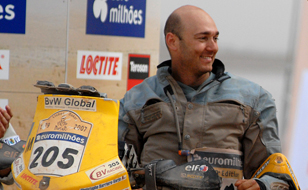 This was a first.

My philosophy was simple: "train for 1,000 kilometres of physical activity per day and I should be ok". Well, that required a lot of time which I didn't have.

So I changed the way I lived to force me into a 10-month round of training with no choice.

I train mentally by commuting from Nelson Bay to Sydney three to four times a week, keeping my nerves while stuck in traffic, spending nearly six hours driving almost every day. That is a real test of resolve and patience, but gets me used to long distances and a full day of work. A typical day of work for me is 14 hours.

Physically I do a lot of mountain bike riding, three to four hours each session, and I recently raced a 24-hour mountain bike race, solo!

However, being limited with time and work I break my training into Resistance, Endurance, Strength, and Stretching to work on specific muscle groups.

Every week is a mixture of the following exercises:

Mountain bike: 3-4 hours two or three times a week (resistance and endurance)

Running: I like to run for two hours in the Stockton sand dunes (interval training) or run on rocks along the ocean to work on reflexes

Canoe: You will see me at sunrise on a blue canoe in Nelson Bay working my upper body for one or two hours before I drive down to Sydney

Weights: At night I spend usually one hour doing weights for strength, and then watch TV while doing 1,000 ab crunches (in lieu of 1,000 kms)

Mountain and Rock Climbing: I use this type of training to work on stretching, trying to accentuate every movement and stretch

Over a 10 month period, nearly every day, I keep a daily routine of various exercises to increase stamina.

Still the unknown is daunting, so I seek to hit what we call the "physical / mental / emotional wall" during my training sessions, closely monitoring my heart rate and recuperation time, and analysing how my body and mind react.

This is where the Dakar begins, putting yourself in impossible positions during training and coming out of them having learned a little more about yourself.

And what do I do during the remaining two months of the year?

That is the time it takes for the body to fully recover from the massive 9,500 kilometre Dakar effort.


:: See all the Dakar highlights on SBS TV at 6pm nightly from January 4 to 19, and follow SBS's extensive online coverage at www.sbs.com.au/dakar

top
Comments (5)
About this Blog

Christophe Barriere-Varju Christophe Barriere-Varju is one of the world's leading off-road motorcycle racers.
He competed in the 2006 and 2007 Dakar Rallies, and is set to take the challenge once again in 2010. Christophe also runs a charity foundation called Dreams Do Come True, which helps others - especially disadvantaged children, achieve their goals. Born in France, raised in West Africa, and completing his education in California, Christophe now resides Down Under and is a rider for Team Rally Australia.


TV
Food
Films
Documentary
World News Australia
Sport
About SBS
Business
Internet and Technology
Cycling Central
Festival Reports
Tour De France