Admin and Technical Checks - What a day!
01 January 2009 | 22:00 - By Christophe Barriere-Varju
Christophe Barriere-Varju and Team Rally Australia mechanic Steven Clarke complete their final checks before setting off on the 2009 Dakar Rally.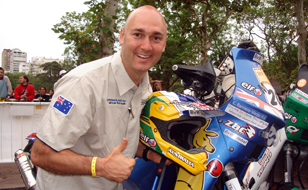 The day began with taking the motorcycle from the staging area (where all the vehicles waited after being taken out of customs), to the administrative and checking area in La Rural at 8:30am on January 1, 2009.

Something that should have taken only three to four hours turned into an all-day 12-hour event.

Team Rally Australia mechanic Steven Clarke and I started by sticking a few stickers on the bike, then Steven teamed up with our assistance team and completed his "tour of duty" while I completed mine.

The administrative checks lasted about two hours and include a series of "pit stops" from license check, to vehicle registration papers, medical information, Sentinel (safety equipment that alerts the riders when cars approach from behind), Iritrack system (that allows both the organisers and the public to follow you via the internet), GPS system, GPS training course etc.

The two hours turned into three, then four, then five, as I spent a lot of time having conversations of past Dakar with people I had not seen in two years.

A journalist writing for the Sydney Morning Herald also rang me and I organised some passes to show him behind the scenes of the Dakar Rally. Make sure you check the weekend edition of the SMH for a feature story on the Australian contingent in the 2009 Dakar Rally.

After the administrative checks were complete, it was the technical checks.

So Steven mounted all the navigation equipment on to the motorcycle and we took the bike through decibel checks (limited to 96db). Ours were below the limit with one exhaust at 95db and the other at 94db.

Lastly, we had to ride the motorcycle to a podium area and salute the very happy public on the way there. The presenter was really pleased to know that I spoke Spanish, which also helped the public understand.

After a quick dinner in an Italian restaurant it is time now for a little rest before tomorrow's ultimate day before the events kicks off.

Tomorrow's program is: race briefing at 10:45am, and then another racer presentation to the public from 5pm to 11pm. Luckily I will be going through closer to 5pm!


:: See Christophe's video message from the technical checks in Buenos Aires here

top
Comments (1)
About this Blog

Christophe Barriere-Varju Christophe Barriere-Varju is one of the world's leading off-road motorcycle racers.
He competed in the 2006 and 2007 Dakar Rallies, and is set to take the challenge once again in 2010. Christophe also runs a charity foundation called Dreams Do Come True, which helps others - especially disadvantaged children, achieve their goals. Born in France, raised in West Africa, and completing his education in California, Christophe now resides Down Under and is a rider for Team Rally Australia.


TV
Food
Films
Documentary
World News Australia
Sport
About SBS
Business
Internet and Technology
Cycling Central
Festival Reports
Tour De France