Time for my Angels to come back
11 January 2009 | 10:00 - By Christophe Barriere-Varju
Christophe Barrier-Varju, Team Rally Australia rider, gives a first-hand description of what it has been like competing on the first seven stages of Dakar 2009.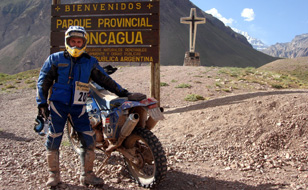 Where do I start? This year Dakar rally started very rough for me. On the first four days it was only dust, dust and more dust.

Dealing with dust

A lot of riders got impatient and ended up on the ground and retiring from the race. The danger is of course not seeing where the holes, rocks and cracks are. Then you have to deal with the fact that you are losing time when the lead riders are just pulling away with a clear view.

There were so many long straights and when the wind is not blowing sideways, you just have to wait and inch away metre by metre. Cars coming from behind are really dangerous, and that's why I was pushing hard.

The cars activate a sentinel, which warns you they are coming. Imagine this: you are stuck in the dust barely seeing 10 metres in front of you at very high speed, then you hear, beeeeep beeeeeeep beeeeeeeeeeeeep…. Beeeeep beeeeeeeeep beeeeeeeeeeeeeeep… and you know a Sainz or Peterhansel are melting on you at much higher speed.

You have to find an area wide enough for the car to pass without clipping you, then straight enough so that for 30 to 45 seconds you know that if you keep upright, there will not be any tree, rock or ditch. If you slow down too quickly it becomes dangerous as well, as the two of us come closer much quicker.

Once the car goes by, in the back of your mind you hope that there is not another car right behind who had no idea you were in front in the first place.

Dust and mechanics

The fine dust created a lot of issues with the bike as well, getting inside all the electrical equipment. This is something the lead riders do not experience as much.

Every day we are cleaning the fuel system and removing dirt in the carburetor. The switches start playing up and become very unfriendly.

On Stage 3, to let you know the extent of my dust experience, the dust had damaged the carburetor needle which manages the bulk of the bike's fuel/air mixture and power when riding. Idle and full throttle was ok, but everything in the middle was gone.

I got in the sand dunes on Stage 5 wondering how I would get out of them. To make my life a little more challenging, my GPS unit switched itself off after running all day on the back-up battery.

Crossing the dunes without GPS

So here I was getting inside the dunes. The GPS was gone. I did not get enough torque on the bike in second or third gear due to the damaged carburetor needle. I had to rev the engine so hard trying to climb these dunes, in first gear.

I relied purely on landscape on my road book to locate all the waypoints, because if you miss one you get a one to three-hour penalty. I followed some tracks figuring the majority wins, but people before me had got lost in there as well.

Then I was four kilometres away from the exit point but could not find it. Storm and lightning started to strike in the sky, the air was getting colder and the night started to come. The last thing you want is to be in the sand dunes at night - then it becomes mission impossible.

I was so close yet I had no idea where I was towards the end. So I moved the road book ahead and saw we had to go toward a mountain in the distance. I climbed up a dune, saw the mountain and decided to "figure it out".

I was running out of fuel after I helped another rider out earlier during the day so that he could continue his race, so I could not hang around too long. I headed straight toward that mountain, off track, making my own way through the bush.

Half an hour later I came across a small, dry river stream with a few local tracks of people riding small bikes around. I thought, "well they must be coming from somewhere". So I decided to follow the track.

Thirty minutes later I came across a larger dirt road, it was 50/50 (left or right), I figured the town should be in the valley, so I picked the track that went down hill. Ten minutes later I saw the final checkpoint and handed in my card.

Missing people

The next morning (Day 6), a lot of riders had spent the night in the sand dunes. Some (including the Turkish rider I had helped with fuel the previous day) lit a bush fire to keep warm at night.

On the way to the start of the Stage 6 special, competitors were still coming in from the previous stage. Some just gave up then, others turned around at the checkpoint, got a new road book and got ready to go again - true heroes.

Stage 5 and Stage 6 were tough. Riders were sleeping everywhere; the stage start was delayed because people were still coming in. Others were told to hold still until we passed (the first part the stage used the previous day's course). So we got going again hoping no one came toward us. Also, three cars and one truck caught on fire on Stage 5.

Finally, yesterday!

What I thought would have been an easy day turned out to be a nightmare. The bike ran good again, but ASO had another idea for breakfast. With the bike full of fuel we started the stage on a single track wide enough for a car, with deep and soft sand ruts. It is very difficult to ride in these conditions with big rally motorcycles, and it took every bit of skill to not fall, let alone trying to go fast.

After 80kms of something that did not want to end, I stopped and ask a person on the side how much more. He said "40 kilometros, mas o menos" I thought, "Well, ultimately I will get to the end".

Some riders drank as much as seven litres on those 120kms. Good thing the locals were standing by to give us water because we only carry three litres with us. When that nightmare ended, we got straight into fesh-fesh - the powdery sand dust that stops us. When we got through that, it was time for a mud bath. At the end of the 240km special, some riders were saying "this is my last Dakar, this is bulls*#t!". We were all exhausted and took turns to sit on the only two chairs at the refueling point.

Going through the Andes

After that long morning, another 250kms of special should have taken us over the Andes. However the organisers decided that enough damage had been done, and replaced it with a shorter liaison instead.

I filled up all 48 litres of fuel only to discover that much of that liaison was in fact the special stage track. I felt like I was riding a tank going up the Andes. The air was getting thin, my head was getting very light. On top of the mountain I asked a local how high I was, he said "3000 metres."

The way down was the highlight for me. Lamas were running on the side of the mountains while I was riding - truly beautiful. Some mountains had purple colours on them, and the sheer size of it all is simply amazing. You feel out of breath with the beauty of it all.

Today is the day of rest. Steven Clarke, Team Rally Australia mechanic, and I slept in this morning in nice, comfortable hotel beds. Now he has gone back to the bivouac to work on the bike, and I am typing this for you and washing clothes for Part II of Dakar 2009.

Again, thank you for all your support. I think now that we all are racing together.

Keep an eye out for stages 9, 10, and 11. These are the breakers.

CBV


Click here to read Christophe's stage by stage updates

top
Comments (10)
Previous 10 |
Page 1
| Next 10
Previous 10 |
Page 1
| Next 10
About this Blog

Christophe Barriere-Varju Christophe Barriere-Varju is one of the world's leading off-road motorcycle racers.
He competed in the 2006 and 2007 Dakar Rallies, and is set to take the challenge once again in 2010. Christophe also runs a charity foundation called Dreams Do Come True, which helps others - especially disadvantaged children, achieve their goals. Born in France, raised in West Africa, and completing his education in California, Christophe now resides Down Under and is a rider for Team Rally Australia.


TV
Food
Films
Documentary
World News Australia
Sport
About SBS
Business
Internet and Technology
Cycling Central
Festival Reports
Tour De France