My race is over
13 January 2009 | 8:00 - By Christophe Barriere-Varju
My race is over. 50km before the end of Stage 8, I went wide into a right hand turn and entered a gutter full of boulder rocks. I managed to slow down but I had to take my left hand off from the handlebar to avoid it being crushed against the rocks.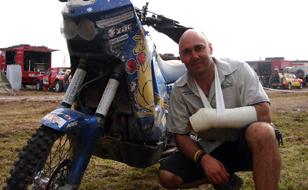 Unfortunately I still had to use my hand when the bike was nearly stopped to hold myself, and I hurt it. I continued to race the last 50kms in the special and finished 89th hoping it was just a bad strain.

Once at the bivouac I went straight to the medical tent for some x-rays.

Unfortunately, the impact broke my radius in two places and at this stage the doctors are not sure about the scaphoid. The good news is that nothing is out of place. The annoying part is that the breaks are so small but too risky with the scaphoid to continue.

I am of course extremely disappointed in myself for getting injured while riding carefully. But I am more disappointed for my mechanic, Steven Clarke, who will not be able to cross the podium in 2009 with me in Buenos Aires on the 18th and for all the people and SBS viewers that wanted to see Team Rally Australia cross the finish line.

Since the start of the rally we have not had much luck and each day we had some bike issues completely unrelated to each other. This time it is not something than can be fixed overnight.

Sometimes luck is just not on your side and we must accept it. There is always next year and all the physical preparation will not be wasted. Each day during the rally I was able to be physically strong, especially entering the 300-500km mark.

I will continue to update you on the rally and will now show you some of the things that happen behind the scenes.

For now, I want to thank SBS for such a great initiative in covering this year's Dakar Rally and for all the support I received during this event.

The 2009 Dakar is now over for me, but Team Rally Australia will get ready for 2010 and beyond. It is a journey that started a few years ago, and in 2009 we hit a small bump. We will come back stronger next year.

Keep an eye on Team Rally Australia activities for the rest of 2009.

Christophe


Click here to read Christophe's stage by stage updates

top
About this Blog

Christophe Barriere-Varju Christophe Barriere-Varju is one of the world's leading off-road motorcycle racers.
He competed in the 2006 and 2007 Dakar Rallies, and is set to take the challenge once again in 2010. Christophe also runs a charity foundation called Dreams Do Come True, which helps others - especially disadvantaged children, achieve their goals. Born in France, raised in West Africa, and completing his education in California, Christophe now resides Down Under and is a rider for Team Rally Australia.


TV
Food
Films
Documentary
World News Australia
Sport
About SBS
Business
Internet and Technology
Cycling Central
Festival Reports
Tour De France