Behind the Scenes: Road Book preparation
14 January 2009 | 0:00 - By Christophe Barriere-Varju
An important part of everyday racing is the preparation of your road book.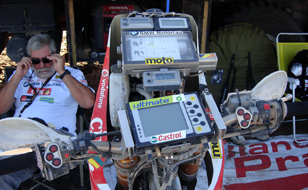 At the end of each day we are given a new road book for the following day. The road book contains important information – both the route we are supposed to follow such as turns and cap (e.g. 257 degrees), but also danger areas, GPS waypoints, and speed zones.

The road book is separated into three sections (1) km (total and partial), (2) information drawings, and (3) the explanation and/or level of danger.

Every night, competitors go through each piece of information and use colours to quickly identify the type of information. When we race, we have little time to read, so using colours helps us disseminate the information and highlight what is important.

We all use different methods - personally I use three colours: green, orange, and blue.

For me, the green shows an upcoming change of direction in an intersection. The orange means danger, and I use the blue for speed limit zones, waypoints, and river crossings.

We also have to make sure we only mark the information that is necessary as it is crucial to keep our eyes on the road and not always on the road book. Our eyes constantly change focus from 30cm to 100-200m ahead.

The road book is useless if the information is missed, so we always have to match the surroundings (mountains, cracks in the road, bumps etc.) with it, and adjust our distances with our trip master (km traveled).

If a competitor does not match the information with the surroundings it can be extremely dangerous. You might be traveling at 160km/h in the dust, the road book might signal there is an erosion on the right side at km 672.40, and you are using the right side of the road because the wind is blowing right to left. These are bad surprises competitors must avoid.

Finding your way

In terms of navigation with no landmarks – such as in dunes, the road book will tell us for example to follow a cap of 132 degrees for 38km, then we are supposed to go through a waypoint (GPS coordinate).

Failing to find the waypoint results in hefty time penalties between 1 and 10 hours. Our GPS only comes active within a 3km radius, and then an arrow comes up that we follow until the waypoint. The GPS then marks that we crossed that waypoint and we are back onto the road book and may follow a cap of 96 degrees for another 25km.

The interesting part is that in the sand dunes a straight line is never the fastest and when riders' GPS get checked at the end of each day, they try to blame the unit if they missed a waypoint to avoid time penalties. However the information is captured in the Iritrack unit which is part of the GPS. So even if the GPS is off, the organisers know every metre that we travel and can download it.

Speed zones are also critical. The GPS will show when we enter a speed zone and we have 300 metres to slow down to the required speed. Riders may use a light or sound signal that is connected to the GPS to alert them once in the 300 metre zone.

I use a "Speedox" (sound signal) that will beep continuously if I am above or just below the speed limit. If I enter a 50km speed zone and travel at 40km/h, there is no sound, if I increase the speed to 45km/h I would hear an intermittent beep, and if I reach 47km/h the beep will be continuous.

In rally races, going fast is as important as avoiding road book errors and getting penalised by a few hours with missed waypoints or speed zones.

Christophe #205
Team Rally Australia

:: Click here to read more of Christophe's Dakar blogs

:: Click here for more Dakar news and video

top
Comments (10)
Previous 10 |
Page 1
| Next 10
Previous 10 |
Page 1
| Next 10
About this Blog

Christophe Barriere-Varju Christophe Barriere-Varju is one of the world's leading off-road motorcycle racers.
He competed in the 2006 and 2007 Dakar Rallies, and is set to take the challenge once again in 2010. Christophe also runs a charity foundation called Dreams Do Come True, which helps others - especially disadvantaged children, achieve their goals. Born in France, raised in West Africa, and completing his education in California, Christophe now resides Down Under and is a rider for Team Rally Australia.


TV
Food
Films
Documentary
World News Australia
Sport
About SBS
Business
Internet and Technology
Cycling Central
Festival Reports
Tour De France