Behind the Scenes: Motorcycle equipment
16 January 2009 | 0:00 - By Christophe Barriere-Varju
During the administrative checks at the start of the event we are given several pieces of equipment to fit on our motorcycles. There is a GPS and an Iritrack in one unit, a Sentinel, and an emergency beacon.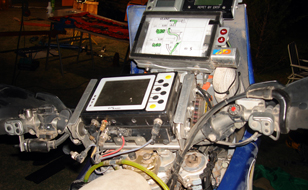 The GPS is used for navigation. Its main functions are the Cap Over Ground (COG), Speed Over Ground (SOG) capturing all the waypoints and speed excess.

Each morning we insert a 4-digit code in the unit that unlocks the day's route with all the waypoints and speed limit zones for the day. Competitors can check whether or not they missed a waypoint and if they exceeded the speed limit imposed in each town/village. The GPS is connected to the Speedox (the unit that alerts you in speed limited areas).

The second part of that unit is the Iritrack. It is extremely important for this unit to function. The HQ in Paris is able to follow every move, whether or not the motorcycle is upright or if it stopped suddenly in case of an accident.

There is also a satellite phone incorporated inside that allows organisers to speak to a rider even if we are up to 10 metres away from the motorcycle. The Iritrack allows you to inform HQ if you are helping a competitor, and has an emergency button for rescue.

The Sentinel unit alerts you that a car/truck wants to pass you. Co-pilots in the cars press a button and this emits a sound to let us know that they want to pass by.

Unfortunately, the sound only happens when the co-pilot decides to push the button. Some are pretty good and others only push it when they are just about to pass. Sometimes they don't alert us at all, and this becomes an issue once we arrive back in the bivouac.

I personally had some words with Mitsubishi in 2007 who never alerted me, and Hummer this year as they pushed the Sentinel only when they were right on the back of my bike.

The rule is that the motorcycle rider decides when and where the car should pass, as some tracks are very narrow. This year one rider still got hit by a car.

The wind direction is very important for us not to be left in a cloud of dust and we must always be on the good side of the wind. You also have to be careful of the roost from the back wheels with rocks flying straight into your face.

The Sentinel has another function. It allows competitors to let upcoming vehicles know that they are down, or stopped. This is very important in case we fall down in the back of a dune where a car or truck can land on you. We press two buttons and it emits a sound to all vehicles close by to exert caution.

Finally, the emergency beacon is for immediate rescue. We use this in case of extreme accident. Once activated, your race is over.

There is still room for improvement to increase the safety of Dakar.

The same system should be given to motorcycles wanting to pass quad bikes, and sentinel automatically alerting the motorcycle racers at two intervals (300m and 100m).

It is, however, a step in the right direction.

Christophe #205
Team Rally Australia


:: Click here to read more of Christophe's Dakar blogs

:: Click here for more Dakar news and video

top
Comments (4)
About this Blog

Christophe Barriere-Varju Christophe Barriere-Varju is one of the world's leading off-road motorcycle racers.
He competed in the 2006 and 2007 Dakar Rallies, and is set to take the challenge once again in 2010. Christophe also runs a charity foundation called Dreams Do Come True, which helps others - especially disadvantaged children, achieve their goals. Born in France, raised in West Africa, and completing his education in California, Christophe now resides Down Under and is a rider for Team Rally Australia.


TV
Food
Films
Documentary
World News Australia
Sport
About SBS
Business
Internet and Technology
Cycling Central
Festival Reports
Tour De France