Crossing the line

17 January 2009 | 0:00 - By Christophe Barriere-Varju
The first and last few days of any race are probably the hardest emotionally.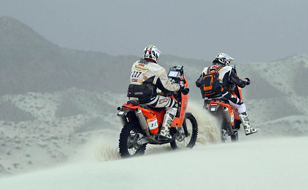 When a competitor must abandon at the beginning of an event it feels like we have been ripped off of all the emotions we were ready for. But when one must abandon while almost seeing the finish line, there is nothing worse than that.

Take the example of Carlos Sainz this year. He was well above everyone else.

Each day I looked forward to seeing him pass by and watch the way he positioned the car at each turn. Sadly, he crashed out while leading with less than three stages remaining.

Marc Coma in 2007 had pretty much won the Dakar with more than a one hour lead only to crash right at the end.

The same feelings are true for all competitors.

Personally, I am pretty nervous about the machinery right at the end - you do not want anything to fail.

Mentally you must concentrate until you cross the finish line and not make any mistakes. You know what to do mentally, but the emotional side wants to take over and "make you feel" the finish line before it is being crossed.

It is not over until it's over, and being over confident can be a costly mistake. Having the emotions take over makes you lose concentration which result in navigation errors and/or crashes.

The body is physically tired after nearly two weeks of effort and the reaction times while racing are slower. This is why being in extremely good physical condition is so important for the mind to remain clear – be it on a bike, a car, or in a truck.

Let's hope that the entire caravan as it is today cross the finish line in Buenos Aires where millions of people will be cheering for them.

Christophe #205
Team Rally Australia


:: Click here to read more of Christophe's Dakar blogs

:: Click here for more Dakar news and video

top
Comments (1)
About this Blog

Christophe Barriere-Varju Christophe Barriere-Varju is one of the world's leading off-road motorcycle racers.
He competed in the 2006 and 2007 Dakar Rallies, and is set to take the challenge once again in 2010. Christophe also runs a charity foundation called Dreams Do Come True, which helps others - especially disadvantaged children, achieve their goals. Born in France, raised in West Africa, and completing his education in California, Christophe now resides Down Under and is a rider for Team Rally Australia.


TV
Food
Films
Documentary
World News Australia
Sport
About SBS
Business
Internet and Technology
Cycling Central
Festival Reports
Tour De France