What in the world are you eating?
I got 99 problems but borek ain't one
20 May 2009 | 10:18 - By Phil Lees
Ottoman Empire street food as examined through the medium of hip hop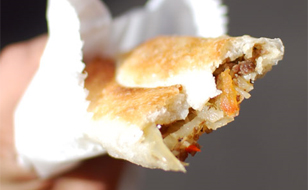 Any street food that has been covered by a best-selling hip hop artist is worth your attention. The rapper in question in this youtube clip is Slovenian and dropping rhymes about a savoury pastry remnant of the Ottoman Empire really does seal the deal for me. Norway can keep their Eurovision win.
Despite being narrowly versed in Slovenian food (or at least drinks in an archeological sense ), the pastry in question, borek, is part of the wider swathe of food that the Ottoman empire carved into Europe and the Middle East. The only benefit left in the wake of an empire is its food: there is generally no other living legacy that is lasting and not culinary.
Borek is made from a flaky pastry filled with a salty cheese and parsley or spinach; or minced lamb. Depending on the nation of origin, the pastry is arranged into flat layers in a circular pan or rolled into a long tube then spiralled onto a tray, then baked until golden. It fills the position that hamburgers occupy in Western food: combination street snack and late night, post booze stomach filler. Unlike hamburgers, it is perfectly acceptable to eat borek for breakfast without possessing any degree of hangover.
The completely unverified Wikipedia entry does its best to delineate the various former Ottoman nations burek by their method of cooking; a neat display how nations take the interlopers' food and then change the recipe to make a dish inseparable from its own. It does however pose this conundrum:
The recipe for modern "round" burek was developed in the Serbian town Niš, where it was introduced by a famous Turkish baker, Mehmed Oglu, from Istanbul in 1498. Serbian burek became popular in Croatia and in Slovenia in the 2nd half of the 20th century.
So there's been a pastry that has been in the region for 450 years but it wasn't until the Second World War that it became popular in neighbouring parts of former Yugoslavia?
Needless to say, burek is delicious, a rare mix of chewy, savoury and persistent oiliness. You can smell it browning from a great distance. Once cooking has started, the dish is not easy to keep to yourself.
As for where to find your own borek, SBS's list of Turkish restaurants would be a good place to start .
For recipes, this Turkish cookery book, a collection of receipts By Turâbî from 1862 was the earliest that I could uncover, hardly from the height of the Empire.
top
Comments (9)
About this Blog
A blog about what the world eats, when and where it eats it, and why it matters to us all. Only much less ambitious than that sounds and with more excruciating puns.

Phil Lees grew up in rural Victoria, the first generation in his family to not have lived on the farm and thereby not slaughter their own meat.

In 2005 he moved to Cambodia and started the nation's first food blog, Phnomenon.com, named after the best pun that he has ever made. It turns out that Cambodian food is delicious and unlike the warnings in most guidebooks, is not likely to kill you with any immediacy. Gridskipper called him a "national treasure". Lonely Planet's Greater Mekong guide called him "the unofficial pimp of Cambodian cuisine". The New York Times laughed at a funny hotdog he saw.

Phil makes a mean sausage, a hoppy pale ale, a modest laksa. He owns three barbecues and is in the market for a fourth.

TV
Food
Films
Documentary
World News Australia
Sport
About SBS
Business
Internet and Technology
Cycling Central
Festival Reports
Tour De France