Athletics' crying game
21 August 2009 | 16:00 - By Jesse Fink
Caster Semenya may be a case for the sex files, and the truth is out there, writes Jesse Fink.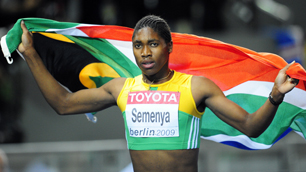 The 800m women's sprint at the IAAF World Championships in Berlin on Thursday was extraordinary for two things. First, it was won in a canter, daylight between the winner and the place-getters.

Second, if the rumours are true, it was won… well, by a bloke.



Usually winning athletes descend the dais to universal acclaim and lucrative endorsements. South Africa's Caster Semenya was instead greeted with a gender test ordered by the International Association of Athletics Federations, athletics' governing body.

This in turn sparked an international incident, the African National Congress, South Africa's ruling party, urging "all South Africans to rally behind our 'golden girl' and shrug off negative and unwarranted questions about her gender". (An ironic description of Semenya, given Bea Arthur, one of the female stars in the TV show of the same name, was often confused for a man.)

But to be fair to the IAAF, theirs hadn't been a kneejerk reaction to Semenya's whopping victory margin of nearly three seconds. They'd ordered the test well before the race was run, three weeks in fact, when Semenya beat her previous PB by an astonishing eight seconds at a meet in Mauritius. Even by swimming's standards, that is exceptional. Or rather exceptionally suspicious.

So the IAAF was and is right to investigate. Until the test results come back, though, the claim and counter-claim of Semenya's supporters and her detractors rages on.

Italy's Elisa Cusma Piccione, who came sixth in the 800m, is convinced Semenya is "a man", while Semenya's family is adamant she was born a girl, her mother Dorcus insisting, "People can say whatever they like but the truth will remain, which is that my child is a girl."

Her old schoolmaster, Eric Modiba, however, is not so sure, and says Semenya dressed for Nthema Secondary School in boys' uniform of pants and not the regulation skirt. Hmmm.

Obviously due process has to take its course and there has to be a presumption of innocence (if that is the right word) in Semenya's case but while The Finktank is no expert in the field of chromosomal forensics, I think there may be something in it, judging from this interview after the race.



If gold medals were handed out for 18-year-old girls with deep voices, Semenya would be wearing two around her neck this week. It should be stated that having a deep voice does not make a woman a man, just as having a high voice doesn't make a man a woman – if that were the case David Beckham would be in all sorts of strife – but it is a feature that at the very least is oddly compelling and gives weight to the suspicions that have been raised.

What's not helping Semenya's cause at all, though, are comments by Leonard Chuene, the president of the South African Athletics Federation, who scraped the bottom of the barrel by suggesting Semenya is being targeted because she is black.

"It would not be like that if it were some young girl from Europe," he said.

"If it was a white child, she would be sitting somewhere with a psychologist, but this is an African child."

With the greatest respect, Mr Chuene, Tintin in the Congo was published in 1931.

We've all moved on. Pull the other one.

This is a simple matter of fairness. To Semenya's opponents, to fans, to sport. She might say she doesn't "give a damn about it" but there's plenty of people who do.

They are owed the truth.

top
Comments (6)
About this Blog
The Finktank is more of what you've come to expect from Jesse Fink, The World Game's enfant terrible, but with a bent on the big issues in sport. No sport, no personality, no subject, is off limits.

Jesse Fink Jesse Fink is one of Australia's most popular football writers and sports columnists. He is the author of the book 15 Days in June: How Australia Became a Football Nation (Hardie Grant, $29.95) and writes twice a week as "Half-Time Orange" for The World Game and weekly for ESPN Star Sports in Singapore. He lives in Sydney.

TV
Food
Films
Documentary
World News Australia
Sport
About SBS
Business
Internet and Technology
Cycling Central
Festival Reports
Tour De France