Flipping Video - the Flip Mino HD
28 October 2009 | 7:51 - By Trevor Long
A fantastic hand held pocket rocket - this is the Flip Mino HD camcorder - everything you need to shoot, edit and share videos with friends, family and the world.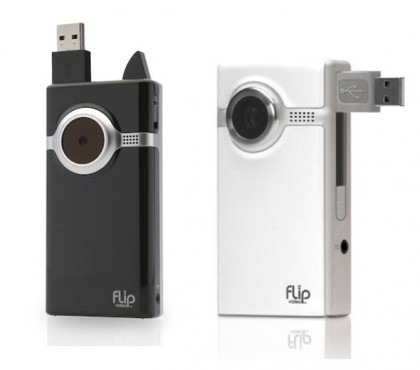 In 2006/2007 a product was launched in the US called the Flip Video (Originally called the Pure Digital Point and Shoot), and ever since then has been one of the best selling 'camcorders' online. This week, the Flip Video makes its debut in Australia and that alone is making it the centre of plenty of media attention.
I was fortunate enough to get my hands on the Flip HD version (Mino HD) and at first touch this is an impressive little package.
Interestingly for me, the manufacturers seem to have taken a leaf out of the Apple book of packaging with a box and packaging that could be described as anything but cheap. Holding the box in your hands really gives you the first feeling that you're in for a quality product – Which it would want to be for $300!
Straight out of the box the next thing you'll notice is size and weight. The Flip HD rivals many mobile phones for size, and without bothering with actual weights you will genuinely be amazed by how light this is. Easily a pocket device in the true sense of the term.
Power on the device and the 'setup' menu is accessed by pressing and holding the big red record button in the centre. Not a lot to configure though, except the all important date.
Once that's set, you're ready to go. It really is as simple as point-and-shoot.
The on screen display (1.5inch) isn't the best guide to the quality of this unit. At first you'll feel let down by the quality of the display – fear not though, once you get the videos onto your computer, or view them on your TV (Using the included cable) you'll realise the recording quality is miles above the 1.5inch display.
There are just seven control buttons
BIG RED RECORD button – Simple and obvious, stop and start recording
"+" - to Zoom in, or increase volume of playback
"-" – to Zoom out, or decrease volume of playback
"<" – goto previous video
">" – goto next video
PLAY – To play video
TRASH – to delete a video
It really is that simple. The device has a built in Microphone and speakers so you can get the gist of the recording right on the device.
There is also a bright red/orange light on the lens side to let any unsuspecting family or friends know you are recording.
Getting the videos off your computer is where the FLIP part of the name comes in. On one side is a small toggle switch – flick this and out FLIPS (I'm inclined to say 'pops' – however, I'll stick with Flip) a small USB connector. Plug this into your computer and the video editing and sharing software can be installed on your PC. It really couldn't be easier.
In the Flip Share software you can do very basic editing – top and tail basically, create a new start and end point to the video. Videos can then be saved either on the device or on your PC.
Video editing is limited to top and tail, and then you have the ability in the FlipShare software to 'Save to Computer' - 'Play Full Screen' - Share by Email, Greeting Card and Online, or Create a Movie - Snapshot or DVD.
Creating a movie is very simple - Just drag the videos into the playlist in the order you choose, add a title and credits if you choose. The software puts a simple fade between videos which is very useful, however you have no other options for transitions or mid movie credits. Not a deal breaker I would think.
Once you've created a movie, in the FlipShare program click ONLINE - choose from MySpace, YouTube or 'other'. I chose YouTube - entered my account name and password and LOGIN, you follow the prompts from there.
This little video I filmed this morning. I walk from home to the train then to the SBS offices. As it was early, I thought this a great time to test the dark filming - so you will see here some key things. The quality, the quality in low light, the look of video filmed holding the Flip by hand.


All in all, this is a great little unit, certainly for 'point and shoot' video sharing you'll find this a winner.
If however you are looking for a few more advanced features you will be left wanting. For example, Image Stabilisation – while this does have a full size tripod mounting point, the majority of filming will be done in the hand. In my example videos I've use two hands to support while filming in the hope of a stable picture. Image stabilisation in video cameras is limited on the best of camcorders so this might not be a deal breaker.
Zoom is limited to 2x digital, which is never the best 'style' of zoom, it is of course better than nothing!
And finally the memory. With 4GB on board the HD (2GB on the Standard Mino) you are limited to just the 60 mins of recording available using that on-board memory.
With 32GB memory cards now available, this is a disappointing limit. Not that the battery will let you go longer than 2 hours in reality. However imagine a world trip – take your Flip, 32GB on board memory, you'd probably never need to download the videos.
What continues to amaze me is just what they have packed into this little package. It is small, light, and top quality.
If you don't have a video camera, and are going travelling any time soon – this is a great option for you.
Check out the Flip at all good eletrical retailers from November 3.
Specs:
Flip Mino HD records in 1280x720 pixel resolution (HD but not FULL HD) and is priced at $299.95
Flip Mino records in 640x480 pixel resolution, and is priced at $229.95.
top
About this Blog
Tech Life takes a look at the latest and most useful technologies for your life. Trevor Long presents Product reviews and opinion on all things technology right here at SBS.com.au

Trevor Long
A gadget lover for many years and keen early adopter of anything technology, Trevor Long has over 13 years experience in the Media, and for the same amount of time has been an Internet developer and consultant.
He currently hosts his own weekly Technology news, information and talk back program on Sydney Radio as well as blogging right here at SBS.com.au.
Everyone has 'that guy, or that friend' or family member you call when you've got a problem with your TV, Hi-Fi or Computer - Trevor Long is 'that guy'.
Follow Trevor on Twitter @trevorlong
TV
Food
Films
Documentary
World News Australia
Sport
About SBS
Internet and Technology
Business
Cycling Central
Festival Reports
Tour De France