Dakar 2010 - Ask Christophe
15 December 2009 | 9:00 - By Christophe Barriere-Varju
With only a couple of weeks to the 2010 Dakar Rally, competitors are putting the last touches on their preparation.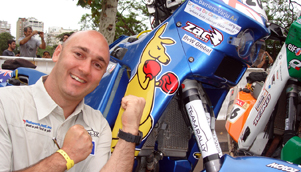 From logistics, freight, physical, mental and emotional preparation, and all the last minute things!

Feel free to ask any question about anything of our SBS correspondent and Dakar 2010 competitor, Christophe Barriere-Varju from Team Rally Australia, as he heads to South America on Christmas Day.

For his fourth participation in the Dakar Rally (the most participations by an Australian), Christophe will attempt the feat as a privateer without assistance or a mechanic - just like the good old days of crossing the Sahara desert in Africa.

Please join me and SBS in becoming part of the adventure for the second edition of the 9,000km Dakar Rally in South America.

Both Argentina and Chile will celebrate 200 years of independence in 2010 and millions of motorsport enthusiasts will wave each competitor 'Buena Suerte' across these two magnificent countries.

This year the race will see a record of Australians participating in the event, four on motorcycles and one competitor in the car category.

Make sure to cheer for all of us as we cross the driest desert on earth, the Atacama Desert!

CBV #121


Click here for more of Christophe Barriere-Varju's Dakar Dreams.

:: SBS ONE will show daily highlights of Dakar 2010, every night at 6:00pm AEDT from January 3 to 17. Or stay online at www.sbs.com.au/dakar for video extras, all the latest news, and expert blogs.

top
Blog Home
Previous Post
|
Next Post
About this Blog

Christophe Barriere-Varju Christophe Barriere-Varju is one of the world's leading off-road motorcycle racers.
He competed in the 2006 and 2007 Dakar Rallies, and is set to take the challenge once again in 2010. Christophe also runs a charity foundation called Dreams Do Come True, which helps others - especially disadvantaged children, achieve their goals. Born in France, raised in West Africa, and completing his education in California, Christophe now resides Down Under and is a rider for Team Rally Australia.


TV
Food
Films
Documentary
World News Australia
Sport
About SBS
Business
Internet and Technology
Cycling Central
Festival Reports
Tour De France