Qatar 2022 has right idea, wrong execution
18 December 2009 | 18:00 - By Jesse Fink
If bowing and scraping is any guide to a World Cup bid's chances of success, Qatar 2022 is in the bag.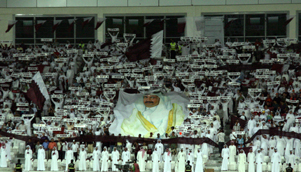 I was in Kuala Lumpur, Malaysia, a couple of weeks ago for the Asian Football Confederation Annual Awards ceremony and witnessed first-hand the grovelling obeisance some very powerful people have for Arab royalty.

When Sheikh Mohammed bin Hamad bin Khalifa Al Thani, the chairman of Qatar 2022's bid committee and son of the Emir of Qatar, entered the ballroom of the Shangri La, Frank Lowy, one of the richest men in Asia, might as well have been dressed in a white shirt and serving canapés, such was the wattage generated by the handsome sheikh, who's only 21.

Sheikh Mohamed and his entourage did some important hand pumping in KL and then made an appearance at the World Cup draw in Cape Town a week later without making any public pronouncements of his own and leaving the PR duties to Sami Al Jaber.

But now he's spoken to World Football Insider and declared FIFA "can't neglect an Arabic-speaking world" and has a "golden opportunity to really make the world a better place by bringing the World Cup to a region which is in dire need of it".

Both of which, to be fair, are absolutely right. But Sheikh Mohamed's plan is all wrong.

Rather than endeavour to bring the World Cup to an absolute monarchy smaller than East Timor, Qatar 2022's money and frequent-flyer points would have been better spent organising a bid to bring the biggest tournament in the world to all the small emirates and nations of the Middle East: Dubai, Abu Dhabi, Sharjah, Qatar, Kuwait and Bahrain. A pan-Gulf bid.

The political significance of such a World Cup would be immense. The legacy immeasurable at a time when there are still wars going on in Iraq and Afghanistan, the Iranians are building a nuclear bomb and the AFC is putting lots of money, PR wind and resources into its feelgood Dream Asia initiative.

Dream Asia, launched in November this year, is designed to help Asia's most needy children find inspiration and hope through football.

But Qatar 2022 comes across as a vanity project for a rich Arab prince, not a clarion call for peace and prosperity in a part of the world that, to use the sheikh's own words, is in "dire need" of some stability and a diversion from the horrors of war and the misery that comes with poverty, lack of freedom and religious intolerance.

Fixing those problems by staging a World Cup in the Middle East would be right up FIFA's geopolitical alley but Qatar 2022 has blown the opportunity. It will never get what it wants when its primary cause is the development of the Qatari nation.

The World Cup's myriad rewards must be made available to those 432 million people in the Middle East the sheikh likes to refer to and Qatar 2022 simply hasn't articulated how that is going to happen.

A World Cup will come to the Arabic-speaking world but it won't be in 2018 or 2022.

However if Qatar can learn to share its ambition with a few of its neighbours, it'll be something that can be realised sooner than it thinks, Inshallah.


:: For more Fink musings on the big issues in football, check out Half-time Orange on The World Game.

top
Comments (3)
About this Blog
The Finktank is more of what you've come to expect from Jesse Fink, The World Game's enfant terrible, but with a bent on the big issues in sport. No sport, no personality, no subject, is off limits.

Jesse Fink Jesse Fink is one of Australia's most popular football writers and sports columnists. He is the author of the book 15 Days in June: How Australia Became a Football Nation (Hardie Grant, $29.95) and writes twice a week as "Half-Time Orange" for The World Game and weekly for ESPN Star Sports in Singapore. He lives in Sydney.

TV
Food
Films
Documentary
World News Australia
Sport
About SBS
Internet and Technology
Business
Cycling Central
Festival Reports
Tour De France