Breaking rugby's last taboo
23 December 2009 | 13:00 - By Jesse Fink
Welsh rugby union player Gareth Thomas proves he is as tough off the field as he is on it.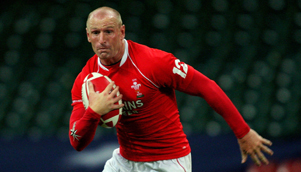 Australia likes to think we produce the toughest sportsmen in the world. Our chests swell with macho pride when some half-baked international celebrity swoons about how tough our AFL and NRL footballers are ("They do it without pads? Unbelievable!") and on the field of play – be it cricket, boxing, rugby union, football – we're famous for unremitting physicality if not exquisite skill.

We might not win everything but we'll go down fighting to the death against bigger and better opponents. Tenacious. Courageous. Tough as nails.

But if you want an example of true toughness, you need look no further than Gareth Thomas, the 35-year-old former Wales rugby union captain, British & Irish Lion and veteran of 100 Tests who came out this week as professional rugby's first openly gay player.

Like our own Ian Roberts, one of the hardest men to ever play rugby league, Thomas has come out while still playing rugby but his profile is far greater and he plays a far more popular sport.



Thomas said he had known he was gay since the age of 16 but hid it from his childhood sweetheart and wife Jemma (who he married in 2002 and is in the process of divorcing) and his teammates because he "wasn't prepared to risk losing" his career.

When he eventually told them he was blown away by the positive reception he received and so has decided to go public with his sexuality.

"I feel I have achieved everything I could ever possibly have hoped to achieve out of rugby and I did it being gay," he told Britain's Daily Mail.

"I want to send a positive message to other gay people that they can do it, too."

Bravo. This is about as courageous as you can get.

Thomas says he was motivated to "break the stereotype" of the professional rugby player and he's done that with some alacrity judging from the worldwide press he has received.

It's unlikely his move will prompt scores of fellow rugby players to immediately come out but there will be a few who will be compelled to do so at some time in the future and no doubt they will have been emboldened in some way by Thomas's astonishing act of bravery.

At a time when we are rapidly losing faith in our sports stars for their double lives – Tiger Woods prime among them – Thomas has given us all the best kind of sporting Christmas present: hope for a better, more tolerant world where rugby players can be as openly gay, for instance, as professionals in creative fields.

Thomas has broken rugby's last taboo. It's high time a few other sports had their own smashed to pieces too.


:: For more Fink musings on the big issues in football, check out Half-time Orange on The World Game.

top
Comments (1)
About this Blog
The Finktank is more of what you've come to expect from Jesse Fink, The World Game's enfant terrible, but with a bent on the big issues in sport. No sport, no personality, no subject, is off limits.

Jesse Fink Jesse Fink is one of Australia's most popular football writers and sports columnists. He is the author of the book 15 Days in June: How Australia Became a Football Nation (Hardie Grant, $29.95) and writes twice a week as "Half-Time Orange" for The World Game and weekly for ESPN Star Sports in Singapore. He lives in Sydney.

TV
Food
Films
Documentary
World News Australia
Sport
About SBS
Internet and Technology
Business
Cycling Central
Festival Reports
Tour De France