America: who are you?

24 December 2009 | 15:00 - By Jesse Fink
You really have to wonder, sometimes, if they still burn witches in America.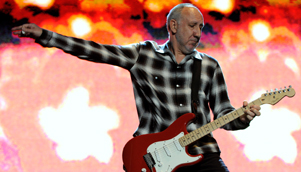 Three Florida-based child-protection groups have petitioned the NFL and US Immigration and Customs Enforcement not to allow Pete Townshend, the legendary guitarist of The Who, to play with his band at the 2010 Super Bowl on February 7 at Dolphin Stadium in Miami, citing Townshend's admission in 2003 that he accessed child pornography in 1999 in the course of researching his autobiography and an anti-child pornography project called A Different Bomb.

His Surrey house was raided in 2002 by police as part of the child-porn sting "Operation Ore" and 14 of his computers confiscated, but no downloaded child-abuse images were found. After an investigation of four months, Townshend was cautioned by police and placed on the sex offenders' register for five years.

Yet despite the NFL's executive vice-president for communications and public affairs, Joe Browne, correctly pointing out Townshend was never charged with an offence nor convicted of one, that's not good enough for Child AbuseWatch founder Evin Daly, who shrills: "Inviting Townshend to play is a blatant disregard to the values of American families and a slap in the face to victims of child sexual abuse."

Another well-intentioned but misguided fellow called Kevin Gillick, from Protect our Children, fulminates: "Townshend taking the stage at the Super Bowl is offensive to victims. We are incensed."

The hypocrisy of their stance is breathtaking.

Not only has The Who toured the United States several times since Townshend was cautioned but the theme song of the television series CSI: Miami, with locations filmed in the new home of the Super Bowl, features a song written by Townshend.



I don't recall the playing of that song each week in American living rooms – and Australian ones, for that matter – causing any outrage.

That bastion of middle America, CBS, the host broadcaster of Super Bowl XLIV, thinks Townshend is upstanding enough to have three of his songs – "Who Are You", "Won't Get Fooled Again" and "Baba O'Riley" – used in the CSI series.

It might be worth pointing out, too, that Robert De Naja, the lead singer of Massive Attack, was also investigated as part of "Operation Ore" and later cleared. That hasn't stopped the ultra-conservative, family-values-oriented Fox Network using the band's song "Teardrop" for the theme of its hit TV show House. And why should it?

But these child-protection groups seem to think just being accused of committing a crime is enough to see you branded and vilified as a "sex offender" for life and stopped from entering the country.

So much for the "land of the free and the home of the brave".

We won't get fooled again.


:: For more Fink musings on the big issues in football, check out Half-time Orange on The World Game.

top
About this Blog
The Finktank is more of what you've come to expect from Jesse Fink, The World Game's enfant terrible, but with a bent on the big issues in sport. No sport, no personality, no subject, is off limits.

Jesse Fink Jesse Fink is one of Australia's most popular football writers and sports columnists. He is the author of the book 15 Days in June: How Australia Became a Football Nation (Hardie Grant, $29.95) and writes twice a week as "Half-Time Orange" for The World Game and weekly for ESPN Star Sports in Singapore. He lives in Sydney.

TV
Food
Films
Documentary
World News Australia
Sport
About SBS
Internet and Technology
Business
Cycling Central
Festival Reports
Tour De France