Indonesia 2022 needs a new strategy
31 December 2009 | 8:00 - By Jesse Fink
Can Australia work with its near neighbour to co-host a FIFA World Cup?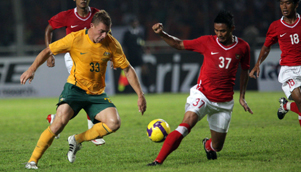 What's the wager that "Another One Bites the Dust" by Queen is the ringtone on Frank Lowy's mobile?

First Mexico withdrew from the 2018-2022 race, then England got some bad press, now Indonesia looks a goner, with the Indonesian government this week failing to assure the country's national football body, the Indonesian Football Association (PSSI), that it could give official guarantees to FIFA it would support its quixotic bid.

That support is primarily financial, with any successful bid predicated on Indonesia building up to ten new stadiums and revamping three, plus sundry infrastructural works. A not-insignificant investment.

Hence the caveats, which currently surround the underperforming men's national team. For obvious reasons, the government wants Indonesia to perform well at any World Cup staged (or partly staged, more on that later) on Indonesian soil.

World Cups are about sport, yes, but they're also manna from heaven for politicians who like to piggyback on the success of their national team. Indonesia's politicians are just as venal and self-serving as our own. Hence the Indonesian government wants the PSSI to explain why the Merah Putih are so unremittingly awful. The PSSI can't and Agung Laksono, Coordinating Minister for People's Welfare, is not budging.

"We appreciate the PSSI's intention to stage the World Cup," he said, "but the government also thinks that national team achievements are important. In the meeting, the PSSI couldn't answer our questions about the national team's achievements. We don't want to just host the World Cup. We also want a national team that could do well in that World Cup."

Fair enough. Indonesia has never played in a World Cup (the Dutch East Indies did, in 1938, but got thumped 6-0 by Hungary, when it was a sudden-death format; not so bad, actually, when you consider the Magyars also accounted for Sweden 5-1 in the semis) and has only qualified for the Asian Cup four times, the last four editions of the tournament, never progressing beyond the first round.

It is in mortal danger of missing out on Qatar 2011, having to defeat Oman at home on June 6 and Australia away on March 3 to have any hope of securing one of the two Group B qualifying spots. It didn't win one match in 2009, and at the recent South-East Asian Games, a competition for under-23 teams in the ASEAN region, it went home winless, drawing with 2-2 Singapore and losing to Laos, 2-0, and Myanmar, 3-1.

For a country of 230 million people with a national league that is going gangbusters with mad crowds and truckloads of tobacco money, it's not good enough.

So the PSSI is really taking something of a liberty with the Indonesian government, thinking they're just going to throw away trillions of rupiah on what is already a mission impossible when the reality is, even if it got the 2022 tournament, the home side would get blown to smithereens in its opening match.

But there are a couple of things the PSSI would do well to consider when it goes back to Minister Agung with its collection bowl.

First, Korea Republic was a rubbish team when it first went to a World Cup, back in 1954, losing to the Hungarians (again!) 9-0 and Turkey 7-0, and didn't win a match in four World Cups from 1986 to 1998.

But the task of hosting the 2002 tournament galvanised the Korean Football Association to do something drastic and they hired Guus Hiddink, who bashed them black and blue and scrapped the team's entrenched culture of senior players lording it over juniors. The Dutchman took them to the semi-finals and claimed the scalps of Spain, Italy and Portugal.

Indonesia, too, needs a foreign coach with the remit to work on changing the way the local game is played from the bottom to the top. It can be done – and Indonesia could do well in a World Cup – but the hard work has to start now and so incumbent manager Benny Dollo must go.

Second, serious attempts should be made to work cooperatively with the Australian bid team and look at the feasibility of Indonesia taking on a number of group games and one of the finals in a rebadged Australia-Indonesia joint bid. There was backroom talk of such a scenario being pitched during the recent Asian Football Confederation Annual Awards in Kuala Lumpur, Malaysia, and while the idea was said to have been dismissed by the Australian camp in my opinion it has some advantages for both sides, especially political and financial.

The relationship between the two football nations is one I've elaborated on several times over the years. There's nothing I would like to see more than our two disparate cultures become closer through football.

So Indonesia 2022, at the very least in a truncated form, isn't a lost cause. The PSSI just has to be a little bit more creative, get smarter and start seeing the bigger picture.

If they can do all those things, not only Minister Agung but FIFA's executive committee might start listening.


:: For more Fink musings on the big issues in football, check out Half-time Orange on The World Game.

top
Comments (3)
About this Blog
The Finktank is more of what you've come to expect from Jesse Fink, The World Game's enfant terrible, but with a bent on the big issues in sport. No sport, no personality, no subject, is off limits.

Jesse Fink Jesse Fink is one of Australia's most popular football writers and sports columnists. He is the author of the book 15 Days in June: How Australia Became a Football Nation (Hardie Grant, $29.95) and writes twice a week as "Half-Time Orange" for The World Game and weekly for ESPN Star Sports in Singapore. He lives in Sydney.

TV
Food
Films
Documentary
World News Australia
Sport
About SBS
Internet and Technology
Business
Cycling Central
Festival Reports
Tour De France