Give it a whirl? I'm giving it the flick
08 January 2010 | 0:00 - By Jesse Fink
The A-League's advertising errs in an age when we're trying to educate footballers not to objectify women.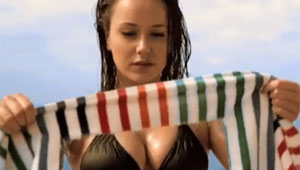 Now, The Finktank has never been the most PC chap in the world. I collect animal heads on eBay. I leave the toilet seat up. I usually scratch my balls when I feel an itch and make no apologies for enjoying the AC/DC-like pastiche of Airbourne. But even this unreconstructed four-eyed ape can see that the new A-League ads are, well . . . a tad prehistoric.

As an esteemed colleague wrote to me in an email this morning, it's "a pretty poor effort in an age when we're trying to educate footballers and fans of football (all codes) not to objectify women. Or am I being soft?"

Nah, not soft. On the money. It's a dog of an ad.



An embarrassment, really, and offensive when you think about the amount of money that was undoubtedly spent on bringing such a garbage concept to fruition. "Give It a Whirl" is the slogan. Part of the Hyundai ilovefootball.com.au campaign.

The commercial is clearly aimed at the pimple-popping, Zoo Weekly/Ralph-reading young male demographic that makes up so much of the Australian football-viewing (and forum-browsing) audience but it shouldn't simultaneously alienate everyone else, especially women, who have enough crap to deal with from us menfolk in their lives every day without going to football matches and being perved at up and down like some bikini-wearing skanks in a Snoop Dogg video.

Not that there's anything wrong with a bit of objectification, either. But there's a time and a place for it. And if you're going to go ahead and objectify women anyway, at least do it with a bit of wit or irony.

This ad has neither wit nor irony because it's not believable. I'm not aware of any club with black, red, orange and green stripes on a white background getting around in the A-League. So the choice of towel could have been better. Whirling, too, is commonly associated (at least in this country) with AFL, being made famous by Essendon coach Kevin Sheedy when he spun his jacket above his head after the Bombers' round 16 win over West Coast in 1993.

A more typical sight in Australian football crowds, and Parliament House for that matter, is stretching out a scarf above your head.

It's a quibble, of course, but such minor considerations as authenticity are what make good ads work, don't they?

And this one, in my opinion, doesn't work on any level. It smacks of being dreamed up by someone with as much understanding of football as I do of quantum mechanics. Football Federation Australia and its commercial partners have come up with some fine creative campaigns since 2005 but this is most assuredly not one of them.

Back to the drawing board, fellas.

:: For more Fink musings on the big issues in football, check out Half-time Orange on The World Game.

top
Comments (48)
About this Blog
The Finktank is more of what you've come to expect from Jesse Fink, The World Game's enfant terrible, but with a bent on the big issues in sport. No sport, no personality, no subject, is off limits.

Jesse Fink Jesse Fink is one of Australia's most popular football writers and sports columnists. He is the author of the book 15 Days in June: How Australia Became a Football Nation (Hardie Grant, $29.95) and writes twice a week as "Half-Time Orange" for The World Game and weekly for ESPN Star Sports in Singapore. He lives in Sydney.

TV
Food
Films
Documentary
World News Australia
Sport
About SBS
Internet and Technology
Business
Cycling Central
Festival Reports
Tour De France