Terry's in form but out of order
03 February 2010 | 0:00 - By Jesse Fink
Terry might be a great defender, but his alleged conduct off the park is indefensible.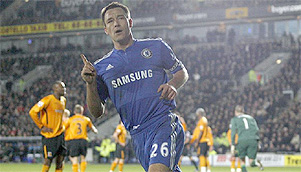 When Les Murray sizes up a target, he unloads both barrels. In his latest blog for The World Game, the doyen of SBS Sport eviscerates John Terry, calling him "the antithesis of a sportsman and a leader for years", "a lying, morally bankrupt grub" and, brutally, a "limp-wristed weakling, a moral cream puff who, as a model to follow, scarcely deserves a second glance".

Remind me not to get on Murray's bad side. Love your work, mate.

As harsh as Murray is, though, he's right to call for Terry to be stripped of the England captaincy, in unison with my other SBS colleague Phillip Micallef, who today urged national-team manager Fabio Capello to give the yellow armband to Wayne Rooney.

Terry is no Tiger Woods. His trail of infidelity caused damage only to himself and his family. Terry's more of a Wayne Carey: an individual whose selfishness and disregard for boundaries have caused not just damage to himself and his family but ripped apart a team. They are very different things.

He should be thrown out on his ear.

The man doesn't even have the grace to offer to resign. There are reports quoting a "close friend" of Terry as saying: "JT has wanted to be England captain since he was a kid, so if people think he's going to give that up they've got another thing coming. You tell me a better man to lead England? There isn't one."

Nobody in all of England? A man who saw no harm in bumping uglies with his best mate's girlfriend is the best leader of the first XI this proud football nation can offer? If Fabio Capello is that hard up England shouldn't even bother going to South Africa.

Interestingly, apropos of the Terry scandal, former USA coach Steve Sampson has revealed he chose to dump John Harkes, the national-team captain, in the lead-up to France 98 when he found out the player was having an affair with the wife of Eric Wynalda. "It's one thing to have an affair outside the team. It's another to have one inside," Sampson said. "There are just certain lines that one cannot cross."

Agreed. Let's hope Capello shares that view.

But in my opinion, the worst of Terry's alleged indiscretions, the straw that should have broken the camel's back even before his grubby affair with Wayne Bridge's girlfriend, was the News Of The World charge that he pocketed £10,000 (less £2000 for his fixer) from secretly offering a tour of Chelsea's training ground complex to undercover reporters.



This came a month after a marketing company engaged by Terry was touting his services to companies "to create effective brand awareness and endorse products and services globally" for "the period leading up to the [2010 World Cup] and beyond".

The club's subsequent assurance that "at no time did Terry ask for or accept any money in relation to visits to the training ground" appears to be have been made without much solid foundation. Especially so when Terry himself claims he gave the money to charity.

Whether it went to sick kids or not is really beside the point. Should the captain of England be anywhere near a black suitcase filled with cash in the Cobham canteen?

Leadership is a privilege and a duty, not something to be exploited for commercial or personal gain.

Terry might be a great defender, but his alleged conduct off the park, if proven, has been indefensible.

:: For more Fink musings on the big issues in football, check out Half-time Orange on The World Game.
top
Comments (4)
About this Blog
The Finktank is more of what you've come to expect from Jesse Fink, The World Game's enfant terrible, but with a bent on the big issues in sport. No sport, no personality, no subject, is off limits.

Jesse Fink Jesse Fink is one of Australia's most popular football writers and sports columnists. He is the author of the book 15 Days in June: How Australia Became a Football Nation (Hardie Grant, $29.95) and writes twice a week as "Half-Time Orange" for The World Game and weekly for ESPN Star Sports in Singapore. He lives in Sydney.

TV
Food
Films
Documentary
World News Australia
Sport
About SBS
Internet and Technology
Business
Cycling Central
Festival Reports
Tour De France