Marriage the wrong axe to grind, Mr Mayer
05 February 2010 | 0:00 - By Jesse Fink
John Mayer can sing, looks cool, but sounds stupid when he talks about Tiger Woods, writes Jesse Fink.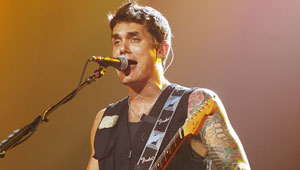 John Mayer has put out one or two records worth listening to on long road trips. He's a half-decent guitarist. He's conventionally good-looking in that All-American Dawson's Creek kind of way but subverts that image by shooting more ink into his arms than a Japanese gangster. He also, famously, has an eye for the ladies, and they for him.

That does not, however, qualify him to pronounce: "Tiger Woods's problems come from him being married. The end."

"If Tiger Woods was single and he texted a girl and said, 'I wanna wear your ass like a hat', why would that ever hit the news?" he said in an interview with The Independent newspaper in Britain.

"I write a lot of dirty text messages to girls, and you've never seen any of them. Why? Because if a girl brought a dirty text message from me to the newspapers, they'd say, 'I don't have an angle here. Someone wants to wear your ass like a hat? Big deal. He's 32 years old. He's a single guy. If John Mayer has a wife and sends dirty texts, then we got a story."

Now I have a lot of admiration for this dude for admitting to sending dirty texts. I do too. It can be a lot of fun, usually harmless, and that's why so many people do it. But to malign marriage itself as the cause for Woods's rampant infidelity is disingenuous and unjust.

I am a divorced man. My own marriage, eight years of it, 10 in our relationship, didn't work out but I was younger (25) than Woods (27) when he walked down the aisle with Elin Nordegren and not once did I stray.

There were temptations, of course, there often are for anyone, but I was deeply attracted to my wife and I was proud of the fact I stayed faithful to her. When it was all over I was able to look myself in the mirror and not feel ashamed at having betrayed her trust.

So Woods's problem is not that he was married but that he chose to be unfaithful. He realised at some point he could use his fame and his money to sleep with as many women as he liked. Instead of leaving his wife to "sow his wild oats", he sowed them behind her back. He had the option of doing the right thing but chose to do the opposite.

There would be no story, Mr Mayer, if Woods had not cheated on his wife, not if he had been single. Miss Nordegren was as attractive, if not more so, than any of Woods's mistresses. By all accounts she is an intelligent, caring person. She was the mother of his two children.

The real culprit was his lack of integrity, not his wedding vows.
top
Blog Home
Previous Post
|
Next Post
Comments (3)
About this Blog
The Finktank is more of what you've come to expect from Jesse Fink, The World Game's enfant terrible, but with a bent on the big issues in sport. No sport, no personality, no subject, is off limits.

Jesse Fink Jesse Fink is one of Australia's most popular football writers and sports columnists. He is the author of the book 15 Days in June: How Australia Became a Football Nation (Hardie Grant, $29.95) and writes twice a week as "Half-Time Orange" for The World Game and weekly for ESPN Star Sports in Singapore. He lives in Sydney.

TV
Food
Films
Documentary
World News Australia
Sport
About SBS
Internet and Technology
Business
Cycling Central
Festival Reports
Tour De France