Taking one for the team or letting the side down?
26 February 2010 | 10:00 - By SBS Sport
Should an athlete's personal fears be put aside for the betterment of their team?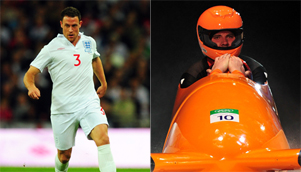 The Wayne Bridge and John Terry saga has taken another twist, with the England left-back making himself unavailable for World Cup selection.

Bridge announced that the fallout from Terry's alleged affair with his former partner Vanessa Perroncel has made his position in the England team "untenable".

"It has always been an honour to play for England. However, after careful thought, I believe my position in the squad is now untenable and potentially divisive.

"Sadly therefore I feel for the sake of the team and in order to avoid what will be inevitable distractions, I have decided not to put myself forward for selection."

So Terry, the villain in this story, gets the girl(s), and gets his opportunity to star at the World Cup finals in South Africa, while Bridge, the innocent victim, has sacrificed himself for what he feels is the good of the team.

However with incumbent England left-back Ashley Cole in doubt for the tournament with an ankle injury, Bridge's self-surrender leaves national manager Fabio Capello with a selection headache.

In thinking of team harmony, has Bridge let the squad down by further weakening an already injury-depleted defence? Should he put personal issues aside and get on with the job of representing his country on the greatest stage in football?

Meanwhile at the 2010 Winter Games, Netherlands bobsleigh pilot Edwin van Calker walked out on his four-man team on the eve of their event in Vancouver, saying that he no longer felt confident in safely guiding his vehicle and teammates down the infamous Whistler Sliding Centre course.

"For me, looking at my self-confidence and the way that I was driving in two-man, this was the right decision to make," said Van Calker, who suffered a crash in the two-man event.

"Some say it is a brave decision. Some say scared. For me, it's not about performing. It's about surviving."

But spare a thought for four-man crewman Timothy Beck – a dual-Olympian for the Netherlands after competing at the 2002 Olympic Winter Games in Salt Lake City and then running in the 4x100m relay team for at the 2004 Athens Games. Beck was also the flag bearer for the Netherlands team at the Opening Ceremony in Vancouver.

"I focused everything on this Olympics. This was my last. It was my goal to perform here. I've seen the track, I've touched it with my hands but never been down it at all," Beck said.

The most scathing reaction perhaps came from Dutch bobsleigh coach Tom de la Hunty.

"I've never seen someone get to a major event and not compete because they're scared. You keep your inner fears to yourself and do it. You go over the top together."

Team sports rely on each individual performing at their highest level in order to have the best chance of winning. It can be a cut-throat environment, with pressure to perform from your playing peers, and at the elite level pressure to win for your country.

An individual player may have an off-day and be carried by the rest of the team, but if they are mentally shot before the event has even started then it's not worth competing at all.

Bridge and Van Calker have fears of a very different nature, but both chose to deal with their demons rather than put others at risk. Isn't that what 'taking one for the team' is all about?


:: More from The Interchange

top
Comments (4)
About this Blog
SBS Sport's stable of writers provides you with the latest news and views from the world of sport.

SBS Sport
TV
Food
Films
Documentary
World News Australia
Sport
About SBS
Business
Internet and Technology
Cycling Central
Festival Reports
Tour De France