Cricket's shot in the arm
10 March 2010 | 14:00 - By SBS Sport
The Clarke/Bingle saga has only added to an already fiery series of one-day cricket, writes Tom Findlay.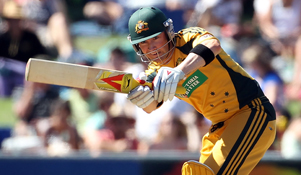 The banner in the crowd captured the essence of a series that has been overshadowed by yet another Bingle bungle: "Clarkey", it shouted, "Where the bloody hell are ya??"

A trio of grinning, boozy New Zealanders surrounded the sign - the latest in a varying series of broadsides, from the humorous to the vitriolic, between the two camps. All fired within the boundaries of good sportsmanship.

It is a jocular slanging match that started with the New Zealand journalist who joked "we've got plenty of sheep to share" at the airport to Australia coach Tim Nielsen, reached its zenith when Mitchell Johnson head-butted Scott Styris, perhaps foolishly, in the helmet during the first one-dayer and is carrying on through the Clarke/Bingle saga.

Of course, we could all do without the Bingle aspect and if reports in Wednesday's papers are any sort of guide, Clarke may have come to the same realisation. But the playful jest has provided a boon for cricket and in particular the 50-over form of the game.

Forget for a moment that for the first time since the start of the Australian summer, fans are actually being treated to some good, closely contested cricket, it is more the trans-Tasman rivalry that is keeping interest bubbling along nicely like a champagne glass at a wedding reception.

Clarke, for the time being has had to leave one drama for another, as he seeks to establish what is more important: his fiance's career or his. It is a defining moment for a man long-considered our next Test captain.

For many of the fans who have commented on various articles about Clarke bailing on his country in the heat of a battle, the damage has been done.

For me, this situation is the first true test of Pup's captaincy credentials. I'm not saying he should necessarily give Bingle the flick, but he has sent a mixed message to his teammates and fans by abandoning the New Zealand tour to be with her and his next move could well be the defining moment in his career.

:: More from The Interchange

top
Comments (2)
About this Blog
SBS Sport's stable of writers provides you with the latest news and views from the world of sport.

SBS Sport
TV
Food
Films
Documentary
World News Australia
Sport
About SBS
Business
Internet and Technology
Cycling Central
Festival Reports
Tour De France