Microsoft workers hide their iPhones
18 March 2010 | 9:01 - By Stefano Boscutti
Microsoft employees are passionate users of the latest tech toys. But there is one gadget love that many at the company dare not name: the iPhone.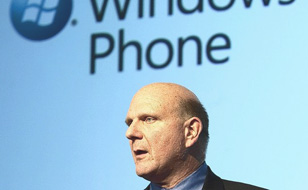 The iPhone is made, of course, by Microsoft's longtime rival, Apple. The device's success is a nagging reminder for Microsoft executives of how the company's own efforts to compete in the mobile business have fallen short in recent years. What is especially painful is that many of Microsoft's own employees are nuts for the device. The perils of being an iPhone user at Microsoft were on display last September. At an all- company meeting in a Seattle sports stadium, one hapless employee used his iPhone to snap photos of Microsoft Chief Executive Steve Ballmer. Mr. Ballmer snatched the iPhone out of the employee's hands, placed it on the ground and pretended to stomp on it in front of thousands of Microsoft workers. Why build a better mousetrap when you can just stomp out your competition. Given there's around 21 million iPhones sold to date, that's a lot of stomping.

http://online.wsj.com/article/SB10001424052748703455804575057651922457356.html
top
About this Blog
New New Media looks at how our mediascape is exploding to bits. How the latest technology and the internet are changing the way we live, work and play. How the latest media is shaping us all.

Stefano Boscutti is an executive creative director and strategist. He's like a better looking version of Todd Sampson. He also has an abiding faith that stories and wordplay (and not powerpoint presentations) will change the world.
TV
Food
Films
Documentary
World News Australia
Sport
About SBS
Business
Internet and Technology
Cycling Central
Festival Reports
Tour De France