Hughesy, it's okay to leave
19 March 2010 | 14:00 - By SBS Sport
You don't get many opportunities in Test cricket, something Australia opening batsman Philip Hughes needs to learn.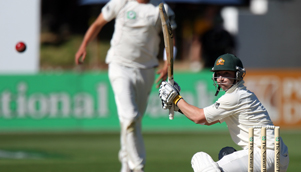 It has been a tough initiation to Test cricket for Philip Hughes, and his detractors will be out in force again after his latest failure when stepping in for the injured Shane Watson for the first Test against New Zealand in Wellington.

Hughes looked reasonably comfortable, racing to 20 from 23 balls, before playing a dreadful shot at a wide delivery and being caught at first slip by Ross Taylor off Brent Arnel, who was bowling his first over in a Test match.

Actually, the word dreadful is an understatement.

Arnel's delivery pitched on off stump and moved sharply away towards the three slips and gully. For a Test opening batsman early in the first session of the first day, it was a regulation leave.

Instead, Hughes's front foot made its customary first movement towards the leg side, and he took an unbalanced, reaching swipe at the away-swinging ball.

People might say 'but that's Hughes's game'. 'He's the swashbuckling type who loves smashing the ball through the off side.'

Yes, he should play his natural game, but there is also the responsibility of a Test opening batsman to see the new ball off, especially on what was a decent pitch against a tepid bowling attack.

Often in Test cricket the shots you leave are as important as the ones you play, and if "PH408" was still updating his Twitter account, he may have quipped "Hmmm... shoulda left that one!!!!"

Seen as the heir to the Langer/Hayden era after his breakout domestic season in 2007-08, Hughes made a duck on Test debut against South Africa at The Wanderers in February 2009.

However he followed that up with a top score of 75 in the second innings, and two centuries (115 and 160) in his two digs of the second Test. The boy from Macksville had booked his ticket to England for his first Ashes tour, aged 20.

Hughes played just three innings of Australia's losing Ashes series, where he was crudely found out by some menacing short stuff from Andrew Flintoff. The stunning emergence of Shane Watson as an opening batsman followed, and Hughes found himself on the outer less than 12 months after his Test debut.

An injury to Simon Katich saw Hughes return to the Test side for the New Year's Test against Pakistan at the SCG. The 21-year-old should have been out caught off the first ball of the match, had it not been for the hard hands of Umar Akmal at gully.

But Mohammed Sami would get his man, and Hughes eventually departed for an ugly 10-ball duck, caught at second slip, before playing the anchor role with 37 from 83 balls in his second innings.

Watson's recent injury gave Hughes another chance at the Basin Reserve this morning – one that the young batsman threw away after getting a decent start.

It is likely Watson will return for the second Test in Hamilton next week so, barring further injury in the Australia batting department, Hughes has one more opportunity to show Australia selectors and fans that he can cut it at the top.

I'm a fan of Hughes and feel he needs to be a part Australia's Test cricket future. I just hope he can learn to leave when it's necessary.


:: More from The Interchange

top
Comments (3)
About this Blog
SBS Sport's stable of writers provides you with the latest news and views from the world of sport.

SBS Sport
TV
Food
Films
Documentary
World News Australia
Sport
About SBS
Business
Internet and Technology
Cycling Central
Festival Reports
Tour De France