Welcome back, Michael
22 March 2010 | 15:00 - By SBS Sport
Michael Schumacher isn't used to finishing in 6th position, writes Cassandra Murnieks.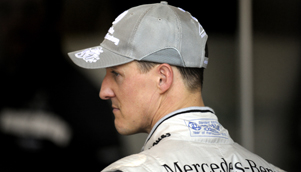 When you're a seven-time world champion, you are used to staying at the pointy end of the grid, with no one in front of you and being rewarded with a spot on the podium.

The German made his return to Formula One after a three-year hiatus and put in a credible performance in the Bahrain Grand Prix finishing 6th.

But Australian motor-racing fans are now wondering will he? Won't he?

Win at Albert Park, that is.

Schumacher says he will use Melbourne to help him get into a rhythm and that he is really looking forward to it.

So am I Michael. So am I.

I'm one of those tragic women who was forced to watch Formula One, and the only thing that kept me going was Michael Schumacher.

I was like one of the drivers, in the zone and all when the red prancing horse was on TV.

But a little part of me died when Schumacher walked away from the sport. It was too early when I knew he had another world championship left in him.

And I must admit I walked away with him. I lost interest in the sport, like a lot of fans around the world.

But Schumacher is back and whilst he isn't with Ferrari, I can forgive him.

Australia's Mark Webber rubbished Schumacher earlier this month in a newspaper column saying he had no chance.

Webber claims that the race field is different now. Same with the cars, apparently they have power steering these days.

I agree with Webber in the sense that Schumacher has been away from the sport for three years, but I'm sure the guy remembers how to drive a car.

Inner competitiveness doesn't just disappear overnight. It's there for life.

So I'm sure that Schumacher will thrash his Mercedes as much as he can around Albert Park to do the best for not only himself, but for his team as well.

Is it a case of sour grapes for Webber? Is he jealous that he hasn't notched up a world championship yet despite being in Formula One since 2002 whereas Schumacher has seven next to his name?

I don't expect Schumacher to win the world championship this year (although that would be nice), but I think the drivers should be wary of him.

I predict he will have a few race wins once the car is set up to his liking and he is into the groove. Perhaps it will be this weekend. Perhaps not.

But with all the dramas that Formula One has seen over the last year, it's nice to see a gentleman return to the sport and could just be what Max Mosley was hoping for to get the fans back.


:: More from The Interchange

top
About this Blog
SBS Sport's stable of writers provides you with the latest news and views from the world of sport.

SBS Sport
TV
Food
Films
Documentary
World News Australia
Sport
About SBS
Business
Internet and Technology
Cycling Central
Festival Reports
Tour De France