On for young and old at Williams F1
26 March 2010 | 15:00 - By SBS Sport
It's never an easy task to beat the likes of Ferrari, McLaren and Mercedes, but Williams may have struck gold with the strike force pairing they have for the 2010 Formula One season.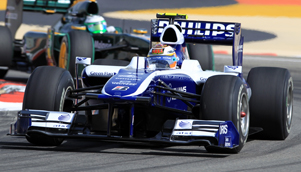 Technical director Sam Michael spoke enthusiastically about the pairing of Rubens Barrichello and Nico Hulkenberg at a breakfast in Sydney earlier this week.

"We have a good pairing here," Michael said.

"They are completely different to each other, not just their experience but their personalities as well. One is Latin and very experienced and then you have another who is German driving in his first year.

"Nico was our test driver for the last two years and we have trained him up and promoted him to a permanent driver. He's a fantastic driver and has won every championship since he was ten years old.

"If you line up his CV up against Lewis Hamilton, he's got a better one. He's definitely a good driver for us to take a gamble on."

Brazilian Barrichello will be competing in his 230th Grand Prix this weekend at Albert Park and is the most experienced driver on the grid.

The 37-year-old started his career driving for Jordan in 1993 and has since driven for Stewart, Ferrari, Honda and Brawn before signing with Williams this year.

Williams finished 7th in the manufacturer's championship last year, but Michael believes the team should have finished in the top four.

"Basically, we only had one driver scoring points so the car was a lot stronger than what we ended up in the championship," he said.

"As a team, even if you have a strong car, you have what you have and we ended up finishing 7th in the championship which was pretty disappointing. We should have finished in 3rd or 4th.

"I think we threw a lot away. We had good opportunities in Melbourne, Monte Carlo, Malaysia and we were on for a P2 in Singapore last year. The car should have been on the podium at least three or four times in terms of its technical capability. We either made mistakes operationally, in the pit lane or with the drivers."

Changes for 2010

The FIA have introduced a number of changes to the cars this year including narrower tyres, the removal of wheel fairings and larger fuel tanks.

A number of teams, including Williams also changed engine supplier from Toyota to Cosworth.

"Toyota has pulled out of the F1 now, but technically we wanted to make a change," Michael said.

"We wanted to go with an engine manufacturer more in tune with Williams. Cosworth's offices are about 30 minutes from our factory and they have a very engineering focused company.

"The engine they have done for us is a very good one and financially it was a very good deal as well. So, basically it was a win on all fronts, technically and financially."

Formula One has been criticized in past years as being dull and boring. The first Grand Prix this year in Bahrain was no exception. Michael puts this mainly down to tyres.

"The first race was quite dull to be honest," he said.

"A lot of that was driven by tyres and I don't mean that in a negative way. Bridgestone have done too good a job, so stable that there is no variation in strategies any more.

"We didn't have a good race in Bahrain. With the last minute changes on engines and a very hectic winter testing program, we went there with three or four different things wrong with the car.

"We are quite excited to see what happens with the car in Melbourne because we have fixed a lot of those things."

Ferrari heads into the second Grand Prix as favourites, but Michael is hoping that Williams will have a better finish than they did in Bahrain.

"The goal in Melbourne is to ensure both drivers are in the top ten and race for mid top-ten points," he said.

"That will probably be the most realistic race for us. The weather will be around 24 degrees which will suit us fine."

Return of the king

Apart from the new regulations and the change of engines in the sport, Formula One has faced another radical change – the return of Michael Schumacher.

The seven-time World Champion has returned after a three-year hiatus driving for Mercedes alongside Nico Rosenberg.

Whilst drivers and critics believe that he shouldn't have returned after he left the sport on a high, Michael disagrees.

"I watched his results in Bahrain and for someone who hasn't been in a Grand Prix for three years and be a couple of seconds behind his team-mate is pretty impressive," he said.

"It doesn't matter if he wins or loses, he has already proven himself. Michael isn't here to make up the numbers even if he is 41-years-old. He is here to win and if he can't win, he will change what he needs to change to make himself win.

"Michael has an advantage over other guys – he has stared down the face of retirement.

"He is probably worth about $100 million pounds but had nothing to do. He was that bored that he got in his jet and flew around the world to karting events.

"You do something to the best of your ability and then bang it stops, which leaves you wondering 'what do I do now?'. He's been in limbo for three years, so it's good for the sport to see him back."


:: More from The Interchange

top
Comments (2)
About this Blog
SBS Sport's stable of writers provides you with the latest news and views from the world of sport.

SBS Sport
TV
Food
Films
Documentary
World News Australia
Sport
About SBS
Business
Internet and Technology
Cycling Central
Festival Reports
Tour De France