Lockyer decision may backfire
06 April 2010 | 12:00 - By SBS Sport
Queensland and Australia great Darren Lockyer should quit his representative career while he is ahead, writes Tom Findlay.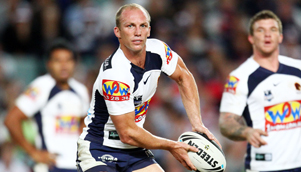 In his prime, Darren Lockyer had a knack for surprising the canniest of opposition. Be it a give and go here or a feint there, the slightly-built, softly spoken Queenslander was always able to pull a rabbit out of the hat on the field.

Today, in a much different setting, he did it again.

Faced with the nation's media, Lockyer was expected to announce his retirement from representative football, effective immediately. So much so that the Australian Rugby League was in the early throws of planning a special testimonial match for the 50-Test veteran.

Queensland Rugby League head honcho Ross Livermore had bemoaned the pending loss of a legend and was quoted speculating on possible replacements in the Maroons line up.

"If I was a betting man, even prior to the start of the season I would have been backing that he won't play," Livermore said.

"It's a feeling I've had all along and I just think he'll probably concentrate on club football."

It's lucky Livermore isn't a betting man, as Lockyer declared himself available for another year of representative duty.

"In the end I realised you are retired a long time," Lockyer told a press conference this morning.

"Even though I have played many times for my state and country I still believe I have something to offer."

No one can begrudge a man who has played 50 Tests for his country, 30 games for Queensland (15 as captain) and more than 319 matches for his club – four of which were in winning grand finals – the right to go out on his terms.

But Lockyer's decision to fight on for another season may have a detrimental effect on both Brisbane Broncos and Queensland.

While Livermore may rest easy, now knowing back up option Scott Prince can stay injured for as long as he wants, Lockyer is drastically down on form this season.

The 33-year-old also faces a huge task to steer his young Broncos teammates through a season in which they will probably miss the finals for the first time in 17 years.

In State of Origin he again risks his body and the fortunes of a vulnerable group of fledgling footballers by embarking on the toughest challenge the game has to offer.

So what can he bring to Queensland – aside from one less selection headache – that Jonathan Thurston, Prince and Melbourne's Cooper Cronk can't?

Not a great deal in truth.

Lockyer's halcyon days are long gone and while his precision passes will be put to better use fired at an Origin backline, his inclusion in the Maroon jersey will only serve to stunt the development of a new halves pairing charged with the inevitable responsibility of upholding a dynasty.

With NSW growing stronger every season the need for Queensland to blood a Cronk or Prince more regularly in the slot next to Thurston should be a priority.

Next year the Maroons will be guided by a duo which would have had the perfect opportunity to get their eye and game in this season, but Lockyer's shock decision has put paid to that.


:: More from The Interchange

top
Comments (1)
About this Blog
SBS Sport's stable of writers provides you with the latest news and views from the world of sport.

SBS Sport
TV
Food
Films
Documentary
World News Australia
Sport
About SBS
Business
Internet and Technology
Cycling Central
Festival Reports
Tour De France