Tiger set to swing again
06 April 2010 | 15:00 - By SBS Sport
Can the world's number one golfer regain the support of golf fans around the world, and is he mentally strong enough to claim his fifth Masters title?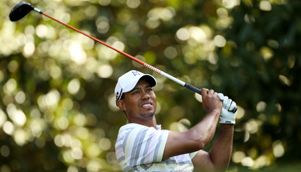 When Tiger Woods takes to the green at Augusta National Club on Thursday, it will have been 129 days since he ran into a fire hydrant and his life came tumbling down.

Media outlets have scrutinised his every move, and he has been a hot topic around the dinner table.

I surveyed a small amount of people when the news broke about his extra-marital affairs and even though they didn't know much about golf, they knew about Tiger Woods.

I'm the same. Even though I know what the aim is in golf, I have no idea what a birdie is or the difference between a 9-iron or a putter.

Having said that, I was swept up in Tigermania when he played in Melbourne last year.

I spent two days at Kingston Heath covered in dust pretending to be a golf buff chasing after a glimpse of Tiger.

It was hard not to get caught up in the hype and I was no different.

After my debut at the Australian Masters, I decided that I would take more of an interest in golf and Tiger Woods. And then the news hit.

Tiger backed into a fire hydrant with his SUV after his wife Elin found out that he was cheating on her and she threatened to hit him with a golf club.

It soon became her nightmare as not just one woman came out, but 15 women have since emerged with stories about their time with the golfer.

So, we all now know about Tiger's women, and he claims to be curbing his addiction by rehabilitation and apparent Buddhism and meditation. But is this enough?

Some critics say it's too early for the golfer to be back on the course. A gossip website reported that Tiger's wife is furious at his return to golf so soon with the smoke from the fire still yet to drift away.

His initial apology to his family, friends, sponsors and colleagues was stiff, stuffy and scripted.

Will fans in Augusta be his friend or foe? Will they cheer every putt or boo him in disgust?

As a woman, I am angry about what he did, in fact appalled. I was glad that he was caught and humiliated, and happy that sponsors dropped him. But let's hope that he has learnt a lesson, a big lesson in fact. People don't forget easily.

As a sports fan, I appreciate that he will be amongst the top golfers, vying to win the Masters for a possible fifth time.

Woods won his first Masters in 1997 and then followed it up with wins in 2001, 2002 and 2005. He chose to return to Augusta due to the tightly controlled arena which will keep the media at bay and allow him to get on with the job.

The golfing fraternity will also be rubbing their hands with the news of Woods' return.

Not only will Augusta be full to the brim with keen golfing fans all jostling to get a birds-eye view of Woods, but the TV audience will go through the roof. It is known that television ratings increase by about 50 per cent when he is competing.

It was also reported that golf's TV ratings were on the slide with Woods out of competition by 18 per cent, so it's a clear win for the broadcasters.

Betting agencies have Woods as the clear Masters favourite at $4.00 with Phil Mickelson behind him on $11.00.

But will Woods be able to cope with the immense pressure that will be placed on him come the first round of the Masters?

Only time will tell, and the whole world will be watching over his shoulder.


:: More from The Interchange

top
Comments (3)
About this Blog
SBS Sport's stable of writers provides you with the latest news and views from the world of sport.

SBS Sport
TV
Food
Films
Documentary
World News Australia
Sport
About SBS
Business
Internet and Technology
Cycling Central
Festival Reports
Tour De France