Tiger returns, one question at a time
06 April 2010 | 16:00 - By SBS Sport
It will be a long time before everyone is satisfied that Tiger Woods has answered all the tough questions.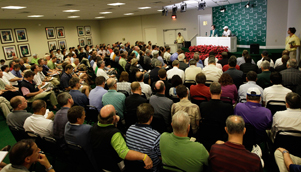 So he speaks again.

Tiger Woods held a news conference a few days before the start of the Masters, which allowed the media to ask those tricky questions that they wanted to pose months ago.

Whilst Tiger always attracts a crowd and interest from the media, today there were twice as many.

Media jostled to get prime seating and the press centre was more secure than the White House when President Obama was in.

One member of the media, who turned his nose up at the four-time Masters champion was Furman Bisher, sports columnist for the Atlanta Journal-Constitution newspaper who has covered the Masters for more than half a century.

"I'd rather see the (Atlanta) Braves open the season."

Harsh, but I'm sure that he isn't the only one.

His empty seat will just go to another journalist with their list of long questions.

Tiger was probably nervous before the press conference, perhaps shifting his feet from side to side, clutching his sweaty palms wondering 'When will it all be over?', so he can get back out on the course.

There was no warm up like he would get out on the golf course with the first question asking about the injuries that he sustained after running his car into the fire hydrant. A busted up lip which required five stitches and a sore neck. Check that one off my list.

Next question. Why didn't you talk to the police, sponsors or media, Tiger? He was told by his lawyers to keep mum on the whole topic until the timing was right.

In Tiger's first apology which he did in February, he said that he wanted to show more respect for the game. That's great, Tiger, that you want to do your best out on the course and for the kids to look up to you again, but what about off the course? That is what he should have spoken about.

'Will you now respect women?' would have been my next question.

With the news that Dr Anthony Galea had been arrested with performance enhancing drugs in his possession, Tiger took a stance on illegal drugs.

"He (Galea) did come to my house. He never gave me HGH or any PEDs. I've never taken that my entire life. I've never taken any illegal drug, ever for that matter."

Tiger declared he was more nervous going out onto the golf course than facing the media and soaking it up a little more than he usually would.

Parts of the news conference were enough to make you feel sleepy and with some of the media starting to dribble and nod off, the question was asked about his return to the sport.

In the initial apology that he gave there was a general impression that Woods wouldn't be seen out on the course at all this year, which he had in mind originally.

"When I gave my speech in February, I had no intentions of playing golf in the near future at all. I just had barely started practicing two days prior to that. That was the first time I hit balls."

After smacking a few more balls around the golf course, he decided the Masters was it.

You have to give the man points for not hitting in a warm-up event, but instead one of the biggest events on the golfing calendar. That's how you do it Tiger-style.

When someone mentioned his wife, he looked a little nervous, so perhaps it's still tender to talk about, but he declared what the rest of the world knew already.

Elin wouldn't be a starter at Augusta this week.

With most of the journalists asking about the accident, if he had learnt from his mistakes, and about Dr Galea, someone actually asked about his expectations of the coming week.

Bravo, about time.

Tiger said with a smile that nothing had changed, that he is going to get out there and try to win this thing.

And so the Tiger Woods circus begins.


:: More from The Interchange

top
Comments (1)
About this Blog
SBS Sport's stable of writers provides you with the latest news and views from the world of sport.

SBS Sport
TV
Food
Films
Documentary
World News Australia
Sport
About SBS
Business
Internet and Technology
Cycling Central
Festival Reports
Tour De France