Land of the lost
30 April 2010 | 9:09 - By Stefano Boscutti
For once, Hollywood is right to oppose innovation to allow trading of contracts based on films' box-office takings.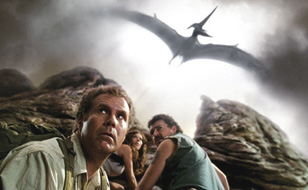 Although the markets run by Cantor Fitzgerald and Media Derivatives have been approved, the contracts to be traded on them have not. Hollywood is lobbying hard to stop them. It has launched a separate effort to have Congress ban box-office futures. Politicians as diverse as Barbara Boxer, a California liberal, and Orrin Hatch, a Utah conservative, have spoken out against them. It is the equivalent of a coast-to-coast marketing blitz. Some of the objections are silly. A joint letter from Hollywood's trade associations points out that box-office figures, though treated as reliable, are in fact estimates by the studios. True, but this is surely an argument for better figures, not for a ban on trading. There are, however, more serious problems with the exchanges. Like a studio shorting it's own film it knew was going to tank.

http://www.economist.com/business-finance/displaystory.cfm?story_id=15955332
top
Comments (1)
About this Blog
New New Media looks at how our mediascape is exploding to bits. How the latest technology and the internet are changing the way we live, work and play. How the latest media is shaping us all.

Stefano Boscutti is an executive creative director and strategist. He's like a better looking version of Todd Sampson. He also has an abiding faith that stories and wordplay (and not powerpoint presentations) will change the world.
TV
Food
Films
Documentary
World News Australia
Sport
About SBS
Internet and Technology
Business
Cycling Central
Festival Reports
Tour De France