Audiences, and Hollywood, flock to smartphones
15 May 2010 | 9:16 - By Stefano Boscutti
It might be hard to imagine watching "The Office" on a screen no bigger than a business card. But hundreds of thousands of people — by the most conservative estimate — are already doing just that.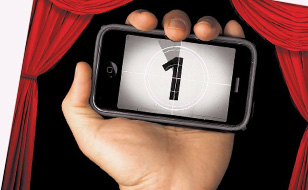 As Hollywood shrinks its films and television shows for the small screens of cellphones, its assumptions about mobile viewing are being upended by surprisingly patient consumers. "We all thought they'd be watching video clips in the checkout line or between classes," said Vivi Zigler, the president for digital entertainment at NBC Universal, summing up the industry's conventional wisdom. But owners of iPhones and other smartphones are actually watching long episodes and sometimes complete films, so a growing number of media companies are vying for people's mobile attention spans. Measured against questionable TV ratings and box-office receipts, the mobile video audience is small today. But a range of companies, from Hollywood studios to local TV stations, all foresee an increasingly wireless world — and they don't want to be cut out of the picture. Viva la revolución!

http://www.nytimes.com/2010/05/03/business/media/03mobile.html
top
Blog Home
Previous Post
|
Next Post
Comments (1)
About this Blog
New New Media looks at how our mediascape is exploding to bits. How the latest technology and the internet are changing the way we live, work and play. How the latest media is shaping us all.

Stefano Boscutti is an executive creative director and strategist. He's like a better looking version of Todd Sampson. He also has an abiding faith that stories and wordplay (and not powerpoint presentations) will change the world.
TV
Food
Films
Documentary
World News Australia
Sport
About SBS
Internet and Technology
Business
Cycling Central
Festival Reports
Tour De France