The Circus - May 13
13 May 2010 | 9:00 - By The Circus
England manager Fabio Capello gets his dates mixed up and Tiger needs a new swinging coach. It's all in The Circus.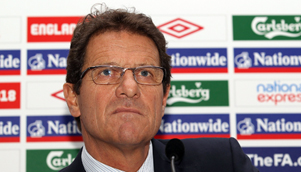 Capello by the numbers
England football manager Fabio Capello knows his numbers. And we say that despite him saying twice at a media conference after the announcement of his squad for the FIFA World Cup that midfielder Gareth Barry's fitness or otherwise for South Africa would be decided on the 34th of May.

We suspect that little gaffe was more a function of Signor Capello's somewhat limited grasp of English and the sounding out of its numbers than any fundamental flaw in his numeracy. It is with some confidence that we make this claim, because the man himself has come up with the Capello Index, a nifty piece of software that would have publicly rated players' performances during the tournament and would have involved lots and lots of numbers.

The killjoys at English FA headquarters, perhaps concerned at the prospect of Emile Heskey logging on at half time and finding the manager's system had rated his elephantine efforts at 1 out of 10, quickly put the kibosh on that plan, and Capello has shelved the idea until after the World Cup, which to us sounds like shelving it forever.

The fact that Capello's partner in the venture is also the founder of an online gambling company probably didn't help. On The Circus Index, Capello gets a resounding 0 out of 10.

Tiger not in the swing
Given all that has transpired in recent months, we thought the last thing Tiger Woods would need was advice on swinging – but we would be wrong. The serial pantsman's swing coach – and well done to you, Hank Haney – has decided to quit that exalted post.

Apparently it is almost unheard of for a swing coach to sack a player, rather than the other way around. The exception to the rule, naturally, was jolly John Daly, courtesy of his "drinking and unreliable behaviour". Well, Tiger ticks at least one of those boxes very neatly.

Given that Woods is now minus a swing coach, we figured we would help him out with this link to a free swing coaching video we found being flogged alongside one of the stories of Haney's departure. Fore!

Uniformly bad
Over the journey some appalling sports uniforms have adorned the splendid physiques of the world's best sportspeople. Close to home we have the poo-and-wee colours of the Hawthorn AFL football club, shown to best/worst effect in the Kokoda tribute guernsey that will be worn in a match later this season.

Americans, though, being Americans, reckon they have the monopoly on shockers, and given this proof they have probably got a reasonable case. Our favourites are the Pittsburgh Pirates one-off 1999 effort (no.15), which definitely shivers our timbers, the Hawthorn-esque San Diego Padres jersey (no.6), the unspeakable Vancouver Canucks uniform (no.4) that somehow lasted six seasons, and the Pirates, again, for their 1976-86 atrocity (no.3), complete with choo-choo driver's hat.

A fault in the vault
Also from America, home of the free and land of the litigious, comes this heartwarming story of good sportsman/woman/personship. Robin Laird is a Californian high school pole vaulter who lived every athlete's dream by winning her event – the last on the program – and getting her South Pasadena High team across the line in the league championship.

She even managed her vault despite carrying extra weight in the form of a little string friendship bracelet on her wrist. Ah-ha. This is where the warm and fuzzy Disney-style story goes all yucky and Quentin Tarantino.

The opposition coach just happened to notice the bracelet and remembered Section 3, Article 3 of the National Federation of High School Associations rule book – thou shalt not wear jewellery, even crappy string bracelets – and raised the protest flag.

So, hearty congratulations to Monrovia High School for winning the title on their merits. We expect that coach Mike Knowles won't have too many friends, let alone friendship bracelets.

The numbers game
1 – Philippines Congress seat won by world boxing champion Manny Pacquiao
30,000,000 – Philippines pesos spent by Pacquiao campaigning for the seat (about $7.4 million)
1 – more bout Pacquiao's mother, Dionisia, has allowed him to fight
80,000,000 – prizemoney in US dollars Pacquiao and undefeated US middleweight Floyd Mayweather are expected to share if they meet later this year

Quote of the day
"I wept when I was told of the false, vile and degrading comments my father made about me given what I have done for him. People normally do not get insults for doing good. My father decided to pay me back in such a terrible way, and he has gone to the extreme to disgrace my family. My father currently lives in a three-bedroom house – not mud house – I instructed my sister to build for him with my own money."
- Chelsea midfielder Michael Essien responds to Ghanaian newspaper reports that he had left his father penniless and living in a squalid mud hut.

Headline we'd like to read
Capello announces media conference for 53rd of June at 29 o'clock


:: More of The Circus

top
About this Blog
The Circus is SBS's daily look at world sport from left field.

The Circus The Circus is SBS's daily view of world sport from left field.

TV
Food
Films
Documentary
World News Australia
Sport
About SBS
Business
Internet and Technology
Cycling Central
Festival Reports
Tour De France