A war on two fronts
14 September 2010 | 9:16 - By Matthew Hall
Mexicans are celebrating their victory over the Spanish 200 years ago - but there's another conflict which is breaking boundaries in its taking on of the state, and its sheer brutality.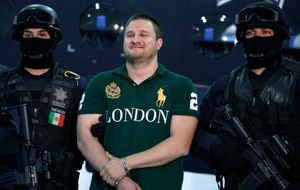 On Sunday night, in the town square of a small fishing village on the Yucatan peninsula in Mexico, Senorita Independencia 2010 (MIss Independence) was crowned with a speech, a sash, and a shy smile.

On a stage facing the square, a singer fired up his pre-recorded music, all boom-tish on the drum machine, to give a performance of such drama that it belonged in the Zocalo, Mexico City's giant plaza, not for the small crowd that had gathered in this dusty remote town.

Similar scenes have been played out for the past week in cities, towns, and villages all across the country and will continue over the next few days as Mexico gears up to celebrate 200 years since the beginning of the War of Independence against Spain on September 16.

But just 45 minutes drive from here, eight people were killed last week when a Molotov cocktail was thrown into a bar, in an attack by a suspected drug cartel.

The bar was in downtown Cancun, close to the famous sea side holiday resort once populated mainly by Americans but now growing in popularity with Europeans looking for year-round sun.

Cancun is kind of like Surfer's Paradise in Australia but with American chain restaurants called Outback Steakhouse and Hooters. It would be easier to find a Taco Bell than a taco.

Cancun is about as Mexican as that ubiquitous fast food chain, but the bar bombing sent a message that the drug cartels have few boundaries and will stop at little to send messages to those they are unhappy with.
'Barbie' arrested
There was, however, another small reason for Mexicans to celebrate this week - the arrest of Edgar Valdez, aka "La Barbie".

Valdez, 37, was the leader of the Beltran Leyva drug cartel based in central Mexico. He is blond, light-skinned, and American-born in Texas.

His nickname comes from his apparent (in a comparative Mexican kind of way) resemblance to "Ken", the plastic partner of the famous Barbie Doll.

The BBC reports Valdez moved to Mexico after years of dealing drugs in the US.

He apparently worked as a bodyguard to Joaquin "El Chapo" Guzman, Mexico's most-wanted drug lord and the head of the Sinaloa cartel.

But after falling out with El Chapo, he changed allegiances to join the Beltran Leyva brothers.

Recently, Valdez began fighting for control of the group, a conflict that spread bloodshed in central Mexico and the resort city of Acapulco.

Valdez was brutal as he smuggled a ton of cocaine each month into the United States.

According to Reuters, he is believed to be responsible for beheadings of rivals, torture and mutilation of victims, and the slaughter of the family of a Marine who took part in the killing of his former boss Arturo Beltran Leyva in December.
Long road ahead
Mexico's national security spokesman Alejandro Poire told a news conference that Valdez had links with criminals across South and Central America.

"This capture constitutes a blow of great impact against organised crime," Poire said.

Valdez, though, is small time compared to Mexico's top gangs - the Sinaloa, Gulf, and Juarez cartels.

Those organisations smuggle most of the 140 tons of cocaine estimated to cross from Mexico into the United States each year.

"Ciudad Juarez and Monterrey were not La Barbie's area of influence, his capture won't affect violence there," said a US federal police official.

The beginning of Mexico's war with Spain 200 years ago will be celebrated with much passion this week, but it may be sometime until this modern day conflict - a brutal war with and between the drug lords - will bring real peace to this still-developing nation.

top
About this Blog
Matthew Hall presents a first-hand look at world events from a different angle. Follow @Matthew_Hall

Matthew Hall New York-based writer Matthew Hall has chased fugitives across Texas, been shot in outback Australia and has lunched with Liza Minnelli.

TV
Food
Films
Documentary
World News Australia
Sport
About SBS
Business
Internet and Technology
Cycling Central
Festival Reports
Tour De France