Adultery, evolution and US politics
28 September 2010 | 8:57 - By Matthew Hall
Ultra-conservatives celebrated when Christine O'Donnell won the Republican nomination for Delaware's senate race two weeks ago.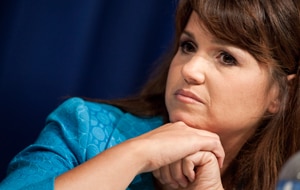 After ousting a moderate rival (and former state governor) to run for the United States senate, O'Donnell is now apparently just the kind of woman the right would like to see in DC.

She has previously campaigned against masturbation and publicly stated evolution cannot possibly be true.

In 1996, O'Donnell led an offensive against masturbation as president of a Christian conservative lobby group called "The Salt" or, if you prefer more of a mouthful, "The Saviors Alliance For Lifting The Truth".

She told MTV at the time: "The Bible says that lust in your heart is committing adultery and you can't masturbate without lust."

Here's the MTV interview.

"My opponents dug up a quote I gave 16 years ago," she said recently, defending her previous handiwork.

"That is how desperate they are. I was a pundit. I was very passionate in my 20s and wanted to share my beliefs."

O'Donnell also believes evolution is a myth perhaps preferring the alternative view that we're all related via two ready-made people called Adam and Eve.

US talk show host Bill Maher uncovered a previous appearance by O'Donnell on his own program where the would-be senator once proclaimed: "You know what, evolution is a myth… Why aren't monkeys still evolving into humans?"

Here's the verbatim clip.

These are strange political times in America, as emphasised last week when another talk show host – Comedy Central's Stephen Colbert – testified in a congressional hearing into illegal immigration.

To be clear, Colbert is a comedian.

He was speaking at a hearing grandly titled "Protecting America's Harvest" pitched at discussing how immigration affects industry and agriculture in the United States.

Colbert had earlier filmed a segment for his program where he worked on a New York vegetable farm to hose down wide-held claims that illegal immigrants took jobs from US citizens and highlighted the point that, without illegal workers, the US agriculture industry would probably collapse.

Here's Colbert in Congress.

He was funny, sharp, and satirical, something that certain politicians did not quite grasp.

In one exchange, Representative Lamar Smith from Texas asked Colbert if he supported the "Pledge To America", a recent attempt at rallying Republicans around some sort of policy.

Colbert reassured Smith with this satirical response:

"You asked me if I endorse Republican policies," said Colbert. "I endorse all Republican policies without question."

Boom-tish.

"Thank you for your endorsement of the "Pledge to America," replied Smith.

This prompted another Republican, Darrell Issa, to announce on Twitter: "[Stephen Colbert] just endorsed our Pledge to America".

Colbert hadn't and, worse, for a country with a rich and diverse sense of humour, so many just don't get the joke.

But wait, there is more.

Just as American politics threaten to descend into farce ahead of the upcoming elections in November, another comedian steps up.

Jon Stewart, host of The Daily Show, another satirical talk show, announced he would hold "The Rally to Restore Sanity" in D.C. – also dubbed the "Million Moderate March" – at the end of October.

Stewart's cry is a counterpoint to "Restoring Honor", a rally hosted by angry right-wing Fox News celebrity Glenn Beck in the capital in August.

"We're looking for the people who think shouting is annoying, counterproductive, and terrible for your throat," joked Stewart.

Stewart said he'd provide banners for attendees who were too busy elsewhere in their lives to make their own: "9/11 was an outside job" and "I Disagree With You But I'm Pretty Sure You're Not Hitler."

Not to be sidelined by his colleague, Colbert announced his own counter-rally scheduled for the same day, the "March to Keep Fear Alive".

It was widely thought that Stewart and Colbert would run out of material after George W. Bush left The White House.

But it seems politics is a gift to comedians that just keeps on giving.
top
Comments (4)
About this Blog
Matthew Hall presents a first-hand look at world events from a different angle. Follow @Matthew_Hall

Matthew Hall New York-based writer Matthew Hall has chased fugitives across Texas, been shot in outback Australia and has lunched with Liza Minnelli.

TV
Food
Films
Documentary
World News Australia
Sport
About SBS
Business
Internet and Technology
Cycling Central
Festival Reports
Tour De France