Melbourne Cup rate rise?
19 October 2010 | 17:42 - By Ricardo Goncalves
Bookies along with borrowers are likely to be the winners on Melbourne Cup Day, as the Reserve Bank unveils its decision on interest rates half an hour before Australia's big race.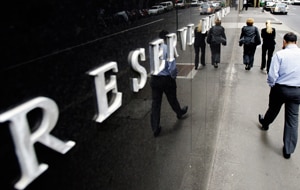 Two weeks after the Reserve Bank makes its monthly call on interest rates, it releases the minutes of that meeting, giving us a clearer picture as to why the board made the decision that it did.

This month, the RBA's made it clearer… an interest rate rise in November is dependent on two things, the next set of inflation numbers and the Australian dollar.

Most economists expected the RBA to lift interest rates to 4.75% this month because of robust comments in the September meeting, and some very hawkish comments from RBA members in various speeches. As a result, a slew of economists brought forward their rate rise expectations from November to October. But the RBA surprised all by leaving the cash rate steady. Because, it now revealed, credit growth had slowed, the economy was expected to grow at just trend for the near-term, and, more importantly, due to the strength of the Australian dollar.

But there's a warning from the RBA: "As in the previous month, members concluded that interest rates would need to rise at some point.. "

The RBA board next meets on Melbourne Cup day, with its decision revealed half an hour before the big race. They'll be tracking any moves in the strong Australian dollar, which has risen almost three per cent in the last two weeks, finally breaching parity with the greenback.

Incidentally, CommSec is expecting the Aussie to trade at levels around US$1.02 by the end of the March quarter.

I've already gone into detail in previous blogs about why the once Aussie battler is outperforming other currencies, but what I haven't mentioned is that the strong currency is already acting as a quasi rate hike, curbing some exports, while slowing manufacturing activity and impacting on the country's tourism sector. That in turn is helping to contain inflation.

But we'll really know its impact on inflation when the official Consumer Price Index is released on October 27. The key number to look at is a quarterly rate above 0.8%. Anything above that would place some serious pressure on the board to lift interest rates, as the annual rate threatens to move beyond its two to three per cent target band.

At this stage though, a rate rise is unlikely, with both Tony Morriss from ANZ and Alan Oster from ANB telling SBS World News Online that the money markets are currently pricing in just a 40 per cent chance of a rate hike on Melbourne Cup Day.

I love it when economists agree on something. Now, if only I can find some experts who can agree and predict the Melbourne Cup winner…..
top
Comments (1)
About this Blog

Ricardo Goncalves Ricardo Goncalves is a Presenter / Reporter for SBS World News Australia

TV
Food
Films
Documentary
World News Australia
Sport
About SBS
Business
Internet and Technology
Cycling Central
Festival Reports
Tour De France