Let's WikiLeak the World Cup
30 November 2010 | 11:01 - By Matthew Hall
WikiLeaks founder Julian Assange is mulling a move to Switzerland, having released a glut of embarrassing US cables, but Zurich is not as corruption-free as he may think.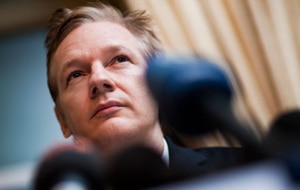 "These (expletive deleted) journalists…" exclaimed Britain's Prince Andrew not too long ago. "… who poke their noses everywhere."
The Prince, our grand old Duke of York, was speaking at a brunch with British and Canadian businessmen in Kyrgyzstan in 2008 where, among other things, he railed against scrutiny by UK authorities.
Investigators were exploring possible kickbacks (ie, bribes) paid to foreign individuals to assist deals for British companies abroad. This, for some people, was a very bad thing but a good story for media in the UK.
The brunch was also attended by the United States ambassador to Kyrgyzstan, Tatiana Gfoeller, who reported her account of the event back to Washington DC.
Released through the now famous/infamous (you decide) Wikileaks organisation over the past weekend, Gfoeller's cable from Bishkek to DC was one of 251,287 United States embassy documents anonymously leaked over the past weekend.
Among some more serious revelations, the communications revealed US diplomats have described many world leaders in unflattering terms.
Iranian President Mahmoud Ahmadinejad has been compared to Hitler, French President Nicolas Sarkozy was nicknamed "the emperor with no clothes", and Italian Prime Minister Silvio Berlusconi is described as enjoying "wild parties". Russian Prime Minister Vladimir Putin is called an "alpha dog".
US Secretary of State Hilary Clinton described the release of the documents as "an attack on the international community" while White Hose press secretary Robert Gibbs said those responsible were "criminals".

Australian Julian Assange, the public face of Wikileaks, is reported to be under investigation by Australia's government to see if his role in the release has broken any local laws. Fearing for his safety, Assange now wants to move to Switzerland.
"The Swiss have a history of fierce independence," he told reporters, perhaps with one eye on what's been happening this week in Zurich.
Or maybe not.
On Thursday, the hosts of the 2018 and 2022 FIFA World Cups will be decided at the Zurich headquarters of FIFA, world football's governing body, when an unknown number of men vote for who they consider to be the best option.
The number of voters is unknown at this point because at least six of FIFA's 24-man Executive Committee – the voters – have been found out as open to bribes or having accepted bribes.
According to recently-released documents, Ricardo Teixeira, President of Brazil's Football Federation, Nicolas Léoz of Paraguay, President of the South American Football Confederation, and Issa Hayatou from Cameroon, President of the African Football Confederation, have collected millions of dollars in bribes relating to TV deals.
FIFA's own Ethics Committee, which few people know includes SBS legend Les Murray on its panel, issued two other powerbrokers, Reynald Temarii of Tahiti and Amos Adamu of Nigeria, suspensions when a newspaper sting revealed them to be open to financial inducements (ie, bribes) in return for a vote.
The Ethics Commitee view on the latest revelations is so far unknown.
Yet when handing out its suspensions two weeks ago – based on the evidence of the Sunday Times newspaper – FIFA's Claudio Sulser claimed the newspaper should be criticised because it had "twisted the truth".
Although FIFA banned its fallible Executive Committee members based on the paper's evidence, apparently the media was the evil temptress, FIFA's poor executives lured by its ultimately bad apple.
Those who crave power might agree, noses poking everywhere, scrutiny is such an unseemly art.
But the public is stronger for it.
top
About this Blog
Matthew Hall presents a first-hand look at world events from a different angle. Follow @Matthew_Hall

Matthew Hall New York-based writer Matthew Hall has chased fugitives across Texas, been shot in outback Australia and has lunched with Liza Minnelli.

TV
Food
Films
Documentary
World News Australia
Sport
About SBS
Business
Internet and Technology
Cycling Central
Festival Reports
Tour De France