An awkward weekend
15 March 2011 | 9:06 - By Matthew Hall
Raise your eyebrows to a very awkward weekend, indeed.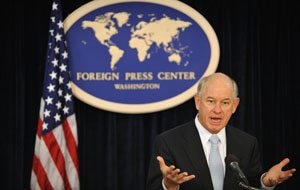 To begin, it is not beyond the realm of possibility that Japan's truly tragic earthquake has come as some sort of relief for Libya's crazed leader Muammar Gaddafi.
As the quake gave way to tsunami and jaw-dropping footage of the devastation, international media shifted its primary focus away from the Middle East to events in Japan.
(Check this footage – there's not only a truck on a roof, there's a cargo ship in a street.)
As Japan lurched toward nuclear meltdown, back in Libya Gaddafi could cross off the murder of an Al Jazeera journalist from his to-do list.
Ali Hassan Al Jaber, a Qatari, was reportedly shot near Benghazi on Saturday when Gaddafi loyalists attacked the vehicle he and other Al Jazeera staff were travelling in.
No longer awkward.
Also widely missed elsewhere was the intriguing sudden resignation of Philip Crowley as spokesman for the U.S. State Department.
Crowley released a statement on Sunday morning concerning Yemen. Two hours later he released another – he'd quit.
The kicker – comments he made the week earlier about the Pentagon's treatment of Private Bradley Manning, the soldier currently detained over suspicion he leaked classified government documents to WikiLeaks.
Manning is being held in a military jail and reportedly forced to spend nights without clothes, not for fun but possibly as part of some kind of psychological attrition campaign.
Speaking at what should have been an innocuous audience at Massachusetts Institute of Technology in Boston, Crowley said treatment of Manning was "ridiculous and counterproductive and stupid." He paused. "None the less Bradley Manning is in the right place".
Not exactly what Secretary of State Hillary Clinton needed to hear from her department's top insiders.
Awkward.
Almost as awkward as Saudi Arabian troops crossing the border on Sunday to "assist" the Bahrain government stop its own unrest.
The New York Times reported opposition groups claiming an estimated 1000 Saudi troops, traveling in around 200 personnel carriers, were an "occupying force".
An opposition statement said the arrival of any soldier or military vehicle from Saudi Arabia was "an overt occupation of the kingdom of Bahrain and a conspiracy against the unarmed people of Bahrain."
Philip Crowley's former employers have a very awkward situation to deal with in Bahrain. The kingdom is the United States Navy's Fifth Fleet base – a crucial supposedly stable American ally in an ever more volatile region. President Obama has had to support the current rulers while gently suggesting the government meet protesters' demands.
Did someone mention Iran is just across the water?
Exactly. Very awkward.
top
Comments (2)
About this Blog
Matthew Hall presents a first-hand look at world events from a different angle. Follow @Matthew_Hall

Matthew Hall New York-based writer Matthew Hall has chased fugitives across Texas, been shot in outback Australia and has lunched with Liza Minnelli.

TV
Food
Films
Documentary
World News Australia
Sport
About SBS
Business
Internet and Technology
Cycling Central
Festival Reports
Tour De France