Man versus horse: a short history
19 August 2011 | 0:00 - By The Broom Wagon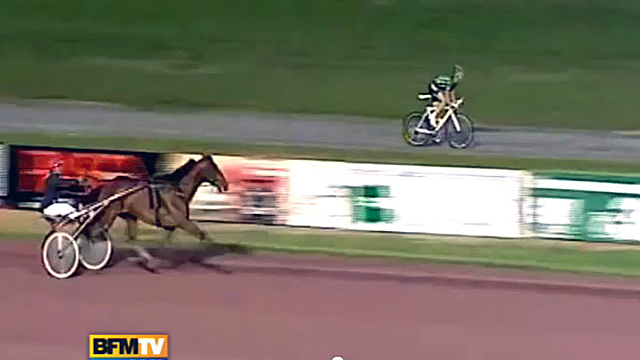 Like the Broom Wagon, what you were probably thinking as Thomas Voeckler clung on to the yellow jersey at last month's Tour de France was: sure, he goes all right against Andy Schleck, but how would he go against something with an even longer face?

Contests between animals and humans have been around ever since Neolithic man first overdid it on mead and informed disbelieving Neolithic woman he could totally wrestle a mammoth.

Ben Johnson, villain of the Seoul Olympics, made his sprinting comeback in 1999 against a racehorse, a harness-racing horse and a stock car. The racehorse bolted home, ahead of the trotter, Fast 'n Flashy. Johnson finished third, ahead of the stock car, which got stuck in the mud.

Kobayashi's duel against the Alaskan Crusher is, rightly, still considered the high watermark of human-v-bear hot-dog eating competitions (YouTube).

Cyclists, for reasons which probably boil down to the unavailability of cheetahs, have traditionally done their inter-species racing against horses. It has been going on for as long as bike racing has existed

William Fotheringham recounts in his Cyclopedia the 1888 race between "an ugly but tough horse" which beat a bike over 49 miles through Colorado. Madison Square Gardens, in the same year, hosted a six-day race between cyclists and horses, with the men riding on a boarded track laid inside a dirt course for the horses. Racing began at 1pm and finished at 1am, accompanied by a regimental band playing music from the Mikado.

Claudio Chiappucci, Rik Van Steenbergen and Italian campionissimo Costante Girardengo all raced horses. In recent years, Saur-Sojasun's Jimmy Casper lost by a length (YouTube). Astana's Rémi Di Gregorio made the rookie's mistake of racing on the horse's preferred surface, sacrificing both traction and clean shorts YouTube.

With rare exceptions, such as mountain-bike legend Tim Gould's 1989 victory over a rugged 22 miles, the common theme you may have noticed is that the horses tend to win. And so it was with Voeckler in this week's showdown with harness racing's Othello Bourbon at France's Sables race track.

Both competitors were offered a flying start. Team Europcar's man, perhaps learning from Di Gregorio's mistake, rode the 380m course on bitumen with Othello Bourbon on grass.

Voeckler, 32, took race one by a wheel. But, as in the Tour de France, he eventually flagged. Bourbon, 4, cantered home to take the series 2-1 (YouTube) in what he later described as a proud extension of his species' historical record, and yet another demoralising setback for humanity.

Next week: Danny MacAskill versus baboon

Dispatches from the Twitterverse (Fabian Cancellara versus Ants and Bees edition)

Finally travel to the vuelta. Was in the hospital yesterday for 6h got biten in training by bee. had allergic reaction. dont worry i can race http://yfrog.com/h0wmfttj

Already last week i got biten. They told me it gives a double reaction of the poison. spain i coming. http://yfrog.com/khp4eyjj

long day ending. big trip behind me(train,2flights,car,lot of waiting). shit hole of hotel (ants all over). whatever close my eyes and sleep

Classic YouTube

In a sprint finish during the 1997 Tour de France, Frederic Moncassin achieved the impressive feat of provoking not one but two riders to the point where they were sanctioned for trying to hurt him. Erik Zabel was stripped of the stage victory for aiming a headbutt at Moncassin, who had been disqualified from that year's Dauphine Libere for headbutting future HTC-Highroad team director Rolf Aldag. In this clip, Tom Steels wins himself a trip home to Belgium for trying to bean Moncassin with a water bottle.




top
About this Blog

The Broom Wagon
TV
Food
Films
Documentary
World News Australia
Sport
About SBS
Internet and Technology
Business
Cycling Central
Festival Reports
Tour De France