Pedal Power
02 September 2011 | 0:00 - By The Broom Wagon
Alternative energy is something we can all get behind unless you are, you know, a politician. So kudos to the innovators over in Blighty who have worked out a way to hook bicycles up to a generator and power their own open-air cinema.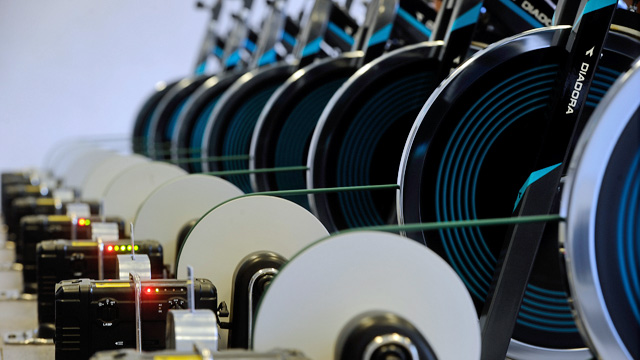 Twelve bicycles, ridden in shifts, were all that was needed to power a complete screening of the Princess Bride.

It's ingenious, and leads to the obvious question of how practical this would be for the everyday cyclist who is interested in living off the grid.

How hard would it be to boil a cup of water, for instance?

As it turns out, not hard at all. To power a kettle, you only need yourself, 10 cyclist mates and a tick over five minutes. (YouTube)

Sceptics thinking to themselves that 11 cyclists still seems a lot for a cup of milo or 11/12ths of the Princess Bride should remember: these results were all obtained using ordinary schmoes on their bikes.

Invite the Liquigas roster around each afternoon, and you could probably all be tucking into tea and crumpets before sundown.

Not-to-be-read-before-lunchtime Tom Boonen health update

Not since it received its bulk order of Minced Horse Organs de Tommeke has the Broom Wagon felt quite so queasy about anything to do with Tom Boonen.

Quickstep's superstar sprinter is having a rough time of it in the Vuelta, and on Thursday he explained exactly what has been holding him back .

"Because of the friction of the pants with the saddle, I suffer from an injury to the scrotum," Boonen told a Het Nieuwsblad reporter already kind of wishing he had chosen to write a Sebastian Lang update* that day. "The extreme heat and excessive sweating caused a heavy irritation in that area. There is a hole. It is not the first time that I have suffered in this place, but never as bad as now. "

"It does hurt quite a lot," Boonen added, unnecessarily.

You might think the revelation that "there is a hole" would be enough for one interview, even if Het Nieuwsblad was the marginally less popular Belgian periodical Hello Perineum!

But you would be wrong. Because, after standing on his pedals and finishing last in Monday's time trial, Boonen explained how he had decided to fix the problem.

"I got a 'second skin', and glued it at times to a kind of diaper. The perineum, the area between the scrotum and the anus, is simply the most delicate part of the body.

"The injury is a bit better now," Boonen said.

Surely this is some sort of practical joke, like the time everyone pretended Johnny Hoogerland rode for days after being knocked into a barbed wire fence at the Tour de France.

(*Lang is going strong! Nine more stages and he becomes the 30th man in history to finish all three grand tours in the same year. He finished Thursday's Vuelta stage in the leading bunch behind Peter Sagan, and has climbed 17 places in general classification since last week to be 82nd overall. He even launched a breakaway on stage nine.)

The week in ...

... fashion

A smurf, a priest and superman walk into a bike race.

... transfer gossip

Matt Goss – Milan-San Remo winner, Giro d'Italia stage winner, the only pro cyclist in history to share his name with one half of Bros – is off to join Team Sky. That's according to L'Equipe and everyone on t'internet who reads L'Equipe. However, according to Goss, that's maybe true and maybe not. "Don't believe everything you hear, or do....or don't! Ill be making my plans for 2012 official within a week," he twote.

... immortality

Here's a great portrait of France's grandmother of cycling, Jeannie Longo. Longo has 13 world championships and won her first of 59 French national titles in 1979. She is in Colorado for the women's Steamboat Springs Stage Race where, to nobody's great surprise, she is defending champion.

... blingees

The not-for-the-seizure-prone world of cycling blingees continues to prosper. This week's best: Where my team car at? and Anatomy of bunch sprint.

Dispatches from the Twitterverse

Diehard rocker @manuelquinziato: "What is a moshpit?" Now I think of it, kind of like the peloton! Controlled violence! - @KarstenKroon

Hey @united, I just had killer idea: STOP CHARGING ME A FRIGGING HUNDRED DOLLARS TO FLY WITH MY BIKE. - @iamtedking

Sagan might have strong legs, but he'll never be a javelin thrower - his winners' flowers landed on my head instead of the crowd! Ouch... - @grahamwatson10

I love The Big Bang Theory - @mcewenrobbie

Classic YouTube

The Angliru greets riders in the Tour of Spain on Saturday. One of the cruellest climbs in world cycling, it tops out at a gradient of 23.6 per cent. In filthy weather in 2002, David Millar crashed twice. Millar quit in protest at the summit, laying his race number on the ground half a metre short of the finish line. "The Vuelta without the Angliru is like a 5km marathon or a 15-minute football match," said race director Enrique Franco at the time.


top
About this Blog

The Broom Wagon
TV
Food
Films
Documentary
World News Australia
Sport
About SBS
Business
Internet and Technology
Cycling Central
Festival Reports
Tour De France