Ten years on the stories still shock
06 September 2011 | 8:14 - By Matthew Hall
Former President George W. Bush last week was the feature attraction in a two-hour cable TV interview reconstructing his thoughts and actions on September 11, 2001.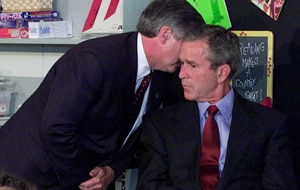 Ten years after the events that changed the way we see the world, Bush gave his own account for the first time. It was not to a news network but the National Geographic Channel. Among his recollections, the "fog of war" frustrated judgement as he left that now infamous classroom in Florida to fly around the country on Air Force One, the President's jumbo jet office which doubled as a safe haven in the sky.

The interview saw Bush humanised – as a husband and father he worried for the safety of his wife and daughters – but now detached from the political process he can afford to be. It's worth recalling that Bush refused to speak about the day to the 9/11 Commission in 2004 under oath. Instead, he gave an unrecorded private interview and only on condition that Vice-President Cheney be present. Distance has mellowed Bush.

So New York is about to embark on a surreal week ahead of the 10-year anniversary of the attacks. It's passing, though, is not about presidents or politicians or mayors. It is about the smaller things that contribute to the big picture. There will be many kids' birthdays at my local park on Saturday but not on Sunday. Inviting toddlers to blow up balloons and break a piñata (a Mexican tradition now common in New York) on September 11 has been deemed (rightly) not quite right.

Yet 10 years later there are still stories that can be told about that day – even if many of them are uncomfortable. The most despairing are the "jumpers". According to one credible estimate, one in six people who died in the North Tower jumped from windows to their death.

Trapped in smoke or fire, or with nowhere to go as ceilings and floors collapsed, outside was considered the only option. It is a 9/11 story that few want to talk about. According to the New York City Examiner's Office: "We don't like to say they jumped. They didn't jump. Nobody jumped. They were forced out, or blown out." To this day, the jumpers also remain mostly anonymous.

You can read a fascinating story about the search for the identity of the 'Falling Man', a controversial photo taken on the day, here.

And then, there are the perspectives of the kids, those who were kindergarten children at the time of the attack and are now teenagers whose entire lives have been lived in the shadow of the World Trade Center, even though the towers have not stood for a decade.

"I remember seeing people jumping from the windows – I remember that," said one, Luca, whose school was close to the Towers.

"I asked my mom, 'Oh, do they have a trampoline at the bottom?' She was like, 'No.'"

Luca is not alone. This is just one of millions of similar small stories that add up and up and up and up and someway explain why closure on 9/11 might be a long time coming.



top
Comments (5)
About this Blog
Matthew Hall presents a first-hand look at world events from a different angle. Follow @Matthew_Hall

Matthew Hall New York-based writer Matthew Hall has chased fugitives across Texas, been shot in outback Australia and has lunched with Liza Minnelli.

TV
Food
Films
Documentary
World News Australia
Sport
About SBS
Business
Internet and Technology
Cycling Central
Festival Reports
Tour De France