On the trail

13 October 2011 | 0:00 - By
Video journalist Richard Davis tested the skills of an Aborginal tracker in Central Australia.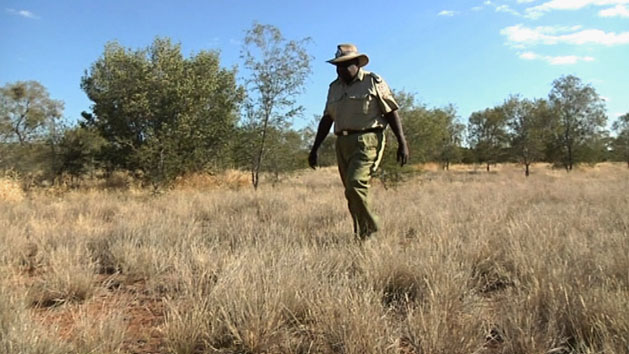 Phillip Alice scans the bushland ahead of him. Stands of two metre high, scrubby trees obscure his view in every direction across the flat red desert.

Phillip is an Aboriginal Community Police Officer who's been tracking since he was a boy. To show me how it's done, he's agreed to "track" his colleague, Detective Sergeant Mick Schumacher through the scrub.

"It's so rugged out here you can't see where he's gone", Phillip says.

We give Mick a five minute head start before the chase begins.

"Better hope he's left his mobile on so we can find him", Phillip jokes.

A few minutes later Phillip has picked up Mick's trail. I ask him how he follows a track. Dried grass crushed by footfalls, footprints in the sand and low bushes pushed aside are the features he's looking for. Easy to say, but harder to follow in practice, yet Phillip reads the signs like a book.

He's been tracking since he was a boy, taught by his father, who was taught by his father.

"My grandfather was a good tracker", Phillip tells me.

After about half an hour of tracking, and a few false turns, we find Mick hiding behind some thick bushes.

"There he is" we shout.

"You got me!" Mick replies.

Mick later explains how helpful Aboriginal trackers are in finding missing people and apprehending fleeing offenders. Phillip has used his skills to track down unfortunate tourists who've got lost or people wanted by the law.

Mick says in some investigations trackers are essential. Phillip has shown me just how skilled trackers can be at following a trail which the rest of us would struggle to see.

top
Comments (17)