Marathon Effort

16 November 2011 | 0:00 - By
Karla Grant on her moving journey to New York with a group of Indigenous marathon runners.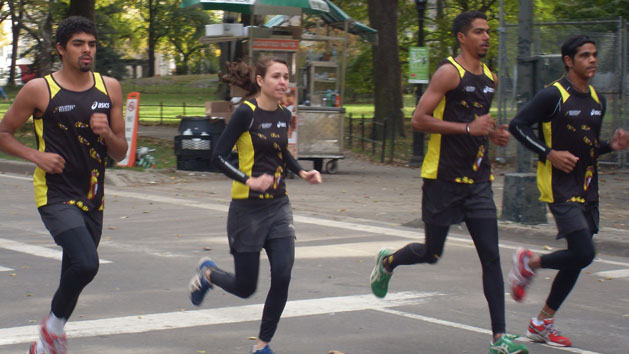 Travelling to the United States with the 2011 Indigenous Marathon Team, who were taking part in the New York City Marathon, was an amazing experience and one that I will never forget.

Getting to know the team of aspiring runners and their support crew of coaches Rob De Castella, Tim Rowe and PR person Mel Grice was like being in one big happy family for the week.

Everyone was so accommodating and so giving in sharing their stories and experiences with me and allowing us to follow them around New York capturing their amazement at the big city they had only dreamed of.

It was exciting to be a part of the media scrum and the thousands of spectators both at the start and finish lines of the marathon. It was very moving to be at Central Park when the first of the Indigenous marathon runners, Patrick Keain from South Australia, crossed the finish line followed by Michael 'Percy' Purcell from Charleville in Queensland.

But the most emotional part for me was when Queenslanders Nadine Hunt from Cairns and Bianca Graham from Weipa finished the marathon together. The tears were flowing as they ran across the finish line and over to where Rob and Tim, and my cameraman Aaron Lewis and I, were standing waiting to capture their moment of glory. I can tell you I was struggling to fight back the tears.

Aaron and I defied all the odds that day to get as close to the athletes as possible to bring you those very emotive shots of the Indigenous Marathon runners as they crossed the finish line - and afterwards as they sat in the park and reflected on what they had just achieved.

Some were energetic after the race and others were mentally and physically drained after running the gruelling 42.2 kilometre marathon. But what I noticed was the support they had for each other – like brothers and sisters in arms, they comforted each other. It was something they had never experienced before in their lives.

Being with the Indigenous Marathon team on their journey has inspired me – I wished I had been running with them and it has renewed my ambition to continue my running on a more serious level. Perhaps you might see me running the NYC Marathon next year if I train hard enough!

In the meantime, check out some of my pictures of the Indigenous Marathon Project Team in New York. And if you haven't seen our New York shows yet, take a look on our website or on our Living Black YouTube channel.

Karla.


top
About this Blog
TV
Food
Films
Documentary
World News Australia
Sport
About SBS
Internet and Technology
Business
Cycling Central
Festival Reports
Tour De France