Ghost riders, and the Ardennes lover
20 April 2012 | 11:00 - By The Broom Wagon
We may as well get this out of the way. The technology used to create Hologram Tupac (above, right) MUST be harnessed for one of this year's grand tours – and let's face it, if anyone is going to take the leap, it is going to be the Giro d'Italia.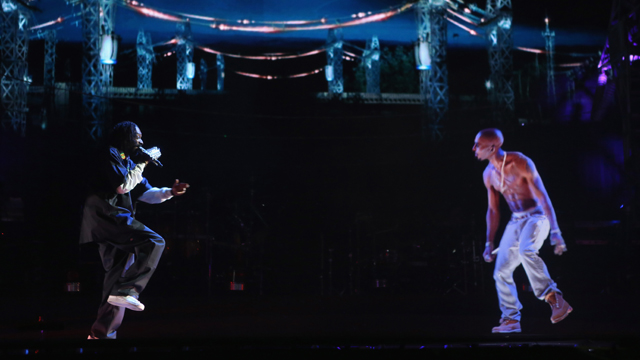 In-car cameras can wait, banning race radios can wait. If we don't have the opportunity to watch Fausto Coppi hammering up the Stelvio come May, hotly pursued by Ghostly Gino Bartali and perhaps the Notorious B.I.G, then someone isn't doing their job.

In the meantime, with only the Tour of Romandie around the corner before grand tour season really kicks in, the Ardennes Classics are spring's last hurrah.

Besides thrones, crackingly good racing and podium girls with face towels, Sunday's Amstel Gold Race was marked by a mid-race dispute between riders over when to stop for a call of nature, spectacularly dubbed 'pisticuffs' on Twitter by the geniuses behind NYvelocity.com.

Joaquim Rodriguez declared Wednesday's Fleche Wallonne win "the happiest day of my life". While those words are unlikely to thrill Mrs Rodriguez , they at least confirm that Joaquim now has a happier memory from cycling than the time teammates forced him to smoke a giant cigar in front of ONCE boss Manolo Saiz.

"This is the finest and most incredible of all my victories, the most desired," Rodriguez said. "I am a lover of the classics. I had so many beautiful places without winning. "

Philippe Gilbert, third on Wednesday, is in the process of crafting an entire season without winning, although he reckons he is in good nick for the final instalment of the Ardennes trilogy, Sunday's Liege-Bastogne-Liege. Here's Gilbert surging then wilting on the final climb of the Mur de Huy, which is notable if only for how quickly a lead of 13 seconds can be vaporised when the gradient hits 26 per cent.



The women's edition of Fleche Wallonne made for even better drama. Amanda Spratt made the early running for GreenEDGE-AIS, going alone and staying out for more than 50km. Emma Pooley, who earlier had to replace one bike because of a mechanical problem and another when she was hit by a race motorbike, reeled Pratt in by the foot of the Mur. But then Pooley's hopes were dashed when she suffered another mechanical and ran out of bikes, forcing her to abandon. Marianne Vos, unbeatable in the first few months of the year before flu forced her to miss the Tour of Flanders, led all the way up the Mur only to be overhauled at the very top of the climb.

The winner? As NBC revealed in an interview published before Wedneday's win, she is probably the only investment-banker turned pro cyclist to own a good-luck sports bra. And no, it's not Mario Cipollini.

The closing stages of the women's race are after the podium presentation right here.



The most important meal of the day
Grape-Nuts – which contains neither grapes nor nuts but is available online! – is both a nutritious North American breakfast cereal and a sort of cardboard cradle for cycling in the United States.

From the end of the month, sleep-addled Americans will munch their Grape-Nuts before probably skipping their morning coffee altogether, having been invigorated by pictures of national road champion Matthew Busche (front of the packet) and team pursuit member Dotsie Bausch (back).

This, according to leading breakfast cereal news service Cyclingnews, is cycling's first breakfast coup since 1999, when Lance Armstrong appeared on a Wheaties box.

"This will add to the ever increasing high profile of cycling in the US and sends a message of health and wellness that is associated with both Grape-Nuts and cycling," said USA Cycling President Steve Johnson, spraying wholewheat grains everywhere.

Health and wellness latest: Grape-Nuts' Russian distributors won't be calling Denis Galimzyanov, then.

The week in ...

... problem solving
How to Pee for Women (or Pisticuffs for Her), by AA Drink-Leontien rider Marijn de Vries.

... technology
The best kind of invention is cheap, easy to assemble and so simple you'll barely know it's there. The Train Horn Bicycle costs over $200, requires half an hour to assemble and fits onto your bike with all the elegance of a cannon on a water buffalo. But as Gizmodo puts it, it does allow you to announce your dominion over the bike lane with the blast of a freight train.



Dispatches from the Twitterverse

Our invitation is awesome and makes me so excited!! I would like to start already 2mrw...but still 85 days! -.- TIME! Y U NO ELAPSE FASTER?!

— Marcel Kittel (@marcelkittel) April 6, 2012
When I tap my stomach it sounds hollow #bored

— Rohan Dennis (@RohanDennis) April 11, 2012
Classic YouTube
Gravity Bike is the perfect way of getting from A to B, providing that A is at the top of a very steep hill and B is at the bottom. Fearlessness and two working knees are also prerequisites.
top
About this Blog

The Broom Wagon
TV
Food
Films
Documentary
World News Australia
Sport
About SBS
Business
Internet and Technology
Cycling Central
Festival Reports
Tour De France