Gay marriage: I'm into it, but not ready to commit
08 May 2012 | 8:15 - By Matthew Hall
"Who do you love?" asked Vice-President Joe Biden on Sunday. "And will you be loyal to the person you love?"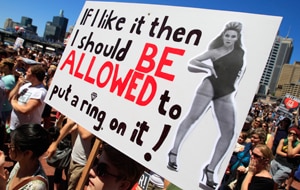 Biden was not calling for universal adoration of President Obama but, instead, was trying to take politics out of an issue that has become very politicised in many countries – not just the United States.

The issue of same-sex marriage.

On Meet The Press, one of a series of American Sunday morning TV interviews that like to set the tone for the political week ahead, Biden stressed he was only the Vice-President and that Obama set the administration's agenda.

But he wanted to be very clear.

"I am absolutely comfortable with the fact that men marrying men, women marrying women, and heterosexual men and women marrying one another are entitled to the same exact rights, all the civil rights, all the civil liberties," Biden said.

The VP added he didn't know if the administration would come out in favour of same-sex marriage if reelected but pointed to the repeal of Don't Ask Don't Tell, among other Obama policies, as an example of civil rights by stealth, for want of a better term.

"It's evolving," said Biden.

Which is a gentle way of saying "I'm kind of into it but not ready to commit". One reason for that hesitancy is that a lot of America isn't so into same-sex marriage as Biden may be. See what happened in hippy liberal California and its to-and-from campaign to recognise the concept.

Biden's TV appearance prompted Obama campaign adviser David Axelrod to tweet "What VP said-that all married couples should have exactly the same legal rights-is precisely POTUS's position."

Axelrod hoisted that flag again with journalists on a later conference call adding Obama's contrast with Republican Presidential candidate Mitt Romney on related issues.

According to the Washington Post, Romney has "funded efforts to roll back marriage laws in California and other places," and "believes we need a constitutional amendment banning the right of gay couples to marry," Axelrod said, adding that Romney would "take us backward, not forward, so there's a very clear distinction in this race."

Support for gay marriage, even with its basis as a basic civil rights issue, is not a huge vote winner and Obama still has to win votes to be reelected. It also remains, in law, largely an issue for states.

But while states can decide who can and cannot marry, the Federal government still denies benefits to married same sex couples from New York, Massachusetts and Iowa (that passed same-sex marriage bills) as well as constructing huge hurdles for citizenship for foreign spouses.

But Biden's comments, as ambiguous as they were, did serve a purpose. The US media spent Monday debating what they really meant; Obama and Biden signaled to a demographic that they recognised the issue even if they had not been able to perform on the issue; and, by the way, that the Defense of Marriage Act still exists.

That's a 1996 federal law that states marriage is the legal union of one man and one woman. No one else. President Obama's administration refuses to defend the law. But guess which President signed it into office?

That would have been Democrat icon Bill Clinton.






top
Comments (3)
About this Blog
Matthew Hall presents a first-hand look at world events from a different angle. Follow @Matthew_Hall

Matthew Hall New York-based writer Matthew Hall has chased fugitives across Texas, been shot in outback Australia and has lunched with Liza Minnelli.

TV
Food
Films
Documentary
World News Australia
Sport
About SBS
Business
Internet and Technology
Cycling Central
Festival Reports
Tour De France