Fish soup and liver for breakfast - Jambo (hello) Tanzania!
14 September 2012 | 8:08 - By Karen Ashford
SBS multimedia correspondent Karen Ashford reports from Tanzania where she is on assignment, and finds that the country is not so different from her home state of South Australia.

Following the old adage "when in Rome…" and as a committed fearless eater, I've resolved to eat like a local. The fish soup was utterly delicious and proved fine breakfast fare. The liver, well, I've never been a big fan of offal, and it was as I've come to expect of liver, which is to say it was probably nice if you like that sort of thing. The sweet potato mash with it was fabulous, and the boiled veggies (broccoli for brekky!) eased the liver on its journey.
I'm to be 18 days on the road criss-crossing this East African nation a little larger my home state of South Australia at the invitation of the Tanzanian government. It's embarking upon an ambitious tourism promotion program and Australia is firmly in its sights. Upon my return I'll be bringing you stories of game reserves and traditional villages, conservation and poaching, the struggle for economic recovery and how natural resources hold untapped promise but for the lack of energy and infrastructure to exploit them, as well as Tanzania's role as a safe haven for thousands passing through its refugee camps…camps with an uncertain future.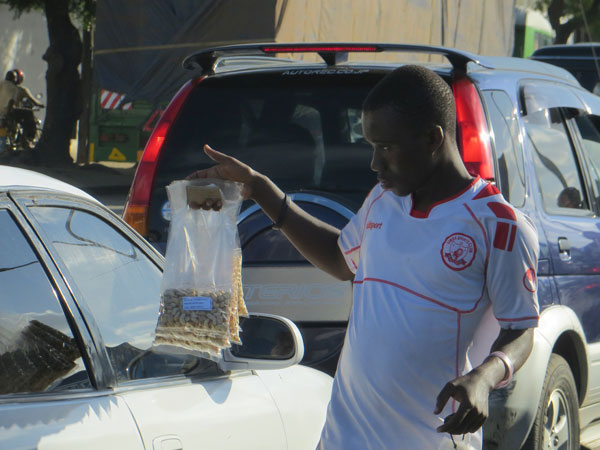 (A street hawker plying his wares – in this case roasted nuts – amongst grid locked traffic en route to Dar airport. The touts attempt to sell almost anything, from school books to pornography, as I discovered in a "way, way too much information" moment)

And the similarities with my home state are apparent everywhere. Not just the remote area landscapes, but the mindset too. Just as when I head north to the Aboriginal lands and I switch my mindset to "nunga time", here I've quickly grasped the concept of African time. A planned first day's tour of Dar Es Salaam evaporated, as a short catch up at the Tanzanian Tourism Bureau became a full day's logistical exercise, at the end of which we're still unsure of exactly what flights we're on over the next couple of weeks, let alone have tickets actually issued.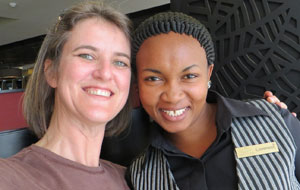 (SBS correspondent Karen Ashford meets a local named Loveness in Arusha, Tanzania)

Patience is a popular name in these parts, and I think I'll make it my honorary middle name as it's clear that stress achieves nothing. Oddly enough, I feel calmly confident that all will come to pass as it should, flights will materialise, hotel rooms will be found and all will be sweet. Yesterday was a case in point… tickets appeared after a staff member walked to the airline office - phone calls and emails have little traction here - and late last night we landed in Kilimanjaro airport. And hour later we were in Arusha and by 11pm we were finally getting food in our bellies - the fish soup at breakfast did a great job of sustaining me till then! And, for all my focus on local eating, no, I didn't opt for the fried ox heart, fearing it too heavy for a late night repast and went instead with the safety of fish. But who knows what other culinary challenges might await…?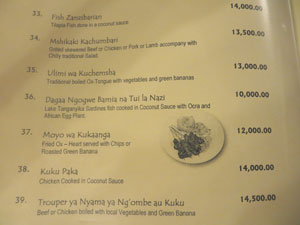 (The hotel supper menu - fried ox heart anyone?)

The call to prayer at the Arusha mosque roused me from my slumber at 5am. A misty sunrise sets the stage for a mild day exploring Arusha's charms. On the agenda today is filming at a Tanzanite mine. I'm fascinated to see the source of this sparkling blue purple gemstone. Doubt I'll be bringing any home though – they're rarer than diamonds and are well beyond my meagre means. I find I'm just as satisfied with the blue purple beauty of the jacaranda outside my hotel window, resplendent in its spring blossom.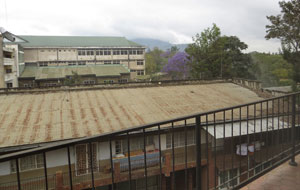 (Mist and smoke mingle above the rusty rooftops of Arusha, wreathing the jacaranda in the soft morning light)
(Karen Ashford travelled to Tanzania at the invitation of the Tanzanian government)
top
Comments (2)
About this Blog
On assignment with SBS multimedia correspondent Karen Ashford.


Karen Ashford Adelaide-based SBS multimedia correspondent Karen Ashford files for Radio, TV and Online.
TV
Food
Films
Documentary
World News Australia
Sport
About SBS
Business
Internet and Technology
Cycling Central
Festival Reports
Tour De France