Truck tyre sandals and smoked goat
22 September 2012 | 8:44 - By Karen Ashford
We're due to set off at 7.30 from Oldupai Gorge, but things don't always run according to plan. The lodge at Ngorongoro crater has recently sold from government to private ownership and standards have slipped.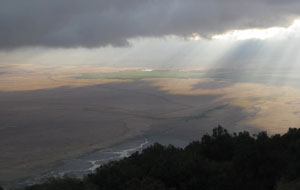 Unlike other places it didn't offer internet access, which meant we were unable to receive our travel arrangements for the next leg of the trip; but more concerning, the new management cuts power to the entire premises between midnight and 5am to save money.
When you're lugging power hungry recording equipment that's needing 10 hours of recharging to be ready for the next day's filming, this is a significant problem. It was a far more significant problem for an elderly visitor who needed to be hooked up to medical equipment to maintain her breathing while she slept. The manager refused to budge on the power, arguing a nurse was available should the lady need her. I couldn't believe it. It took the rather insistent intervention of my host, the Tanzanian Tourism Ambassador to Australia Dr Casta Tungaraza to ensure this lady could safely sleep. It wasn't long before I started hearing all kinds of stories about how things had changed as Tanzania ventures into a privatisation.
The government operated facilities we've seen have been top notch, and it seems there are some challenges trying to maintain those high standards when assets transfer into private profit-making hands, usually from overseas. I felt for the staff, some of more than 20 years employ, giving the very best service they could despite the newly imposed challenges.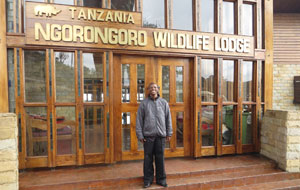 (Ngorongoro lodge, with Paulo, Tanzania's friendliest porter!)

Finally the phones calls we needed to make to compensate for the lack of internet were completed and we were on our way. Oldupai Gorge is a treasure trove revealing the transformation of ape to man in its layered strata. Oldupai is the Masai name given to the region after the spiky sisal that grows there. It was translated as Olduvai by a German naturalist and the locals are increasingly keen for the proper name to be re-adopted.
Standing at the edge of the chasm where the two main arms of the Gorge merge into one, a formation aptly named "the castle" revealed time itself, not in hours or days, but in million of years. This was the place where Mary and Louis Leakey discovered evidence of Australopithecus boisei (zinjanthopus) dated about 1.8 million years old, Homo habilis about 1.3 million years old and Homo erectus about a million years old. It's also the region where the Laetoli footprints were unearthed; the beautifully preserved impressions left in volcanic mud by two adults and a child hominid about 3.6 million years ago, giving an amazing insight into the earliest point of the transition from chimp to the Homo sapiens that we are today. The Leakey's task was far from easy in such unforgiving terrain. In 1935 they had to rescue their car from a deep ditch using the only things they had to hand - three knives and a couple of enamel soup plates!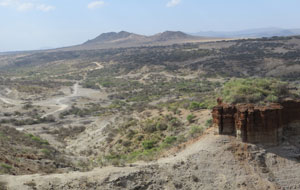 (Oldupai gorge with the castle at centre. To the left two arms of the Gorge meet; you can see the roadway leading to the site of Mary Leakey's discovery, although because she was his student, Louis took the credit.)

The museum at the chasm edge is a humble structure with views from Mary Leakey's camp to the left, sweeping 270 degrees across the gorge. Totally spectacular. The facility has done a great job providing information and artefacts, but has many many more items in storage at the MaryLeakey camp that it would one day like to display as part of an expanded museum experience - but as with everything, it comes down to money. I'm frankly astonished that such an important world heritage location has so little international financial support; astonished too that there weren't more visitors filling its dusty carpark. It is a truly stunning natural wonder quite aside from its extraordinary heritage, and worth visiting in itself.

In the Gorge itself, we went to the site where the skull fragments of zinjanthopus were unearthed, and saw the cliff face that these intrepid scientists and their team continued to labour away at for years in their efforts to piece together our ancestors' past. Whilst we were there we encountered the children of the future - a Masai boy and girl aged about 7 and 9 shimmied down the rocky slopes. They were fascinated by the TV camera, and I took turns filming them one at a time so that the other could see on the viewfinder. Then I did the "tricky flip", inverting the viewfinder screen so that they could see themselves while they were being filmed. Excited pointing and a stream of swahili ensued. I showed them how the camera worked, honing in on an ultra close up of our tour guide's eyes. The little girl in particular was glued to the scene, her arm around me as she craned to see, as I zoomed in and out on the faces of others in our party and her eyes widened in amazement.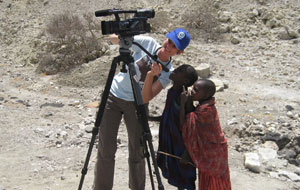 (Masai children exploring the TV camera at Oldupai Gorge. The Masai continue their traditional herding in this area, requiring a delicate balance to preserve the fragile environment without preventing cultural practices.)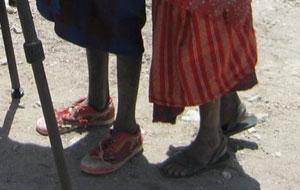 (Note the little girl's recycled tyre sandals.)

We gave the children water, and a hat each, when another group of youngsters came walking up the Gorge base towards our vehicles. These four lads were a little older, and sported the white painted faces of the newly initiated, making them early teenagers. One of our party, Don the police officer from Perth, quickly recognised them as the boys who earlier at the museum agreed to be photographed if he gave them some money, but as soon as the shillings were in their hands they fled. I was taken aback by how quickly they had made their way from the museum to the dig site across sharp stony ground in sandals made from old truck tyres.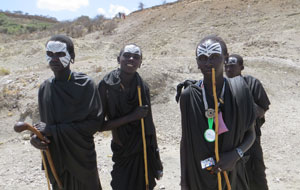 (Newly initiated Masai boys, on their way to becoming warriors. One is spotting a ladies hand mirror as part of his airmen's. I later spotted a girl who'd done likewise with a hairbrush. In the background you can see our TV stars departing up the rocky escarpment)

A conversation with our guide saw a couple sheepish faces, but it is impossible to be upset with these children over a thousand shillings, less than a dollar in Australia. It's more about the premise of give and take, and the principle of honesty. The Masai face some real challenges keeping their heritage strong amidst globalisation, and many a time individuals ran up to our vehicle with their hands outstretched seeking alms. There is a real risk of creating a culture of beggars. I needed to know more about the sustainability of local cultures and the more then 120 diverse tribal groups, from the iconic Masai to the lesser known but equally distinctive groups like the Watatogo and the Hadzabe. Time to find out …. next stop, meeting with some of the traditional people of the Serengeti.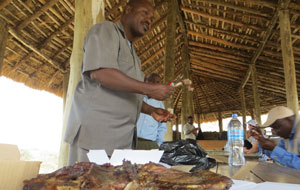 (Before departing to meet with tradespeople, John the Oldupai boss treats us to a feast of hot smoked goat, Masai style. Fantastic.)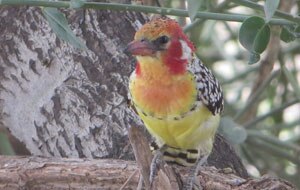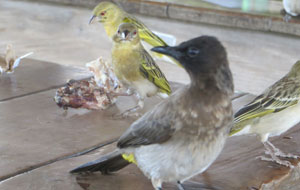 (Hundreds of birds have converged on the Oldupai museum grounds seeking scraps; despite the "do not feed the bird signs" they are pretty well feed and artful scavengers. No bone too big!)

(Karen Ashford travelled to Tanzania at the invitation of the Tanzanian government)
top
About this Blog
On assignment with SBS multimedia correspondent Karen Ashford.


Karen Ashford Adelaide-based SBS multimedia correspondent Karen Ashford files for Radio, TV and Online.
TV
Food
Films
Documentary
World News Australia
Sport
About SBS
Business
Internet and Technology
Cycling Central
Festival Reports
Tour De France