Going underground
25 September 2012 | 14:27 - By Karen Ashford
Another early start. After getting into Arusha at about 10pm, grabbing a bite to eat and taking a much needed shower - mercifully now with hot water - I'm up at 4.30am to process yesterday's vision, prep the kit and pack my bags.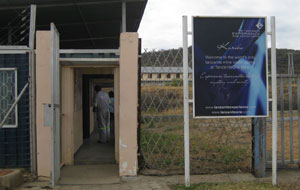 We're going underground at a tanzanite mine near Kilimanjaro, then flying to Kigoma via Mwanza for a visit to a refugee camp that's slated for closure. Time is tight so everything has to be spot on. It's the mine visit that I talked about in my first blog, but was rescheduled. I had already interviewed the chief of this mine in Dar es Salaam (he just happened to be the immediate past president of the chamber of mining) and was looking forward to seeing tanzanite in the raw.
By now I've seen plenty of it polished. Every major hotel foyer and airport terminal (and I've been through 'em all this trip) has tanzanite of varying quality for sale. Tanzania is the only place in the world it's found, right in the foothills of Mount Kilimanjaro, and I was keen to see it at the source. I was pretty keen to see Kilimanjaro too, but as with our past two transits, it was shrouded in cloud.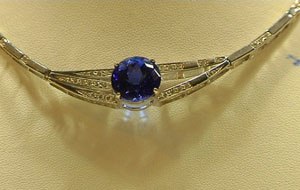 (Tanzanite can be found from blue ranging to clear - the colour is brought out by 15 minutes in a kiln. The most prized stones are those with blue purple, blue green or pure deep blue tones.)

By now we've become quite accustomed to scrutiny; at least two X-ray machines at every airport (at Mwanza you pass through one x-ray, walk down the corridor around the corner and are faced with another - I really can't fathom why), numerous boom gates and police checks on roads, and mirrors checking the underside of cars, doubtless a legacy of the 1998 bombing of the US embassy in Dar es Salaam that marked the emergence of Osama Bin Laden and Al Qaeda.
There were three security gates at the Tanzanite mine - but in this case I could see why. Tanzanite is rarer than diamonds and highly sought on the black market. My host, Dr Casta Tungaraza is well prepared for the Tanzanian security regime and has diligently secured an envelope full of permits, for everything from filming permissions and wildlife parks' access, to approval to visit refugee camps and in this case, entry to the mine.

The mine we're visiting is operated by a company called TanzaniteOne and we were greeted by its personably efficient general manager Douglas Swartz. He began explaining the induction process, and timeline for our underground visit stretching to some three hours, when I was compelled to interrupt as politely as I could and explain that we had barely two hours on site in total if we were to make our flight.
He looked stunned and said given that morning's blasting had just occurred and gases hadn't yet cleared we had a problem. I must've looked crestfallen but gamely asked whether there were any possible alternatives. Hasty talks ensued and a visit to a different shaft was arranged. The man is a miracle worker! We were quickly taken through an induction briefing before donning overalls, rubber boots, hard hats, headlamps and gloves in a look that's sure to catch on that I call "tanzanite chic".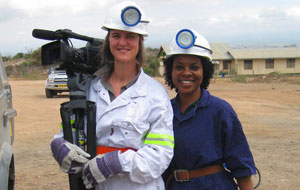 (Kitted up and ready to roll.)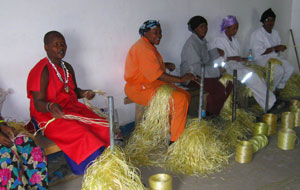 (On the way in we meet the mine's women employees, preparing the lengths of string used to secure filled ore bags before they're hauled topside.)

Hoisting my camera and tripod on my shoulder and with Perth policeman Don Emanuel Smith toting my lighting rig and spare battery we were off, led by South African ex-pat Anton (no, not Anton Enus; a different, bigger, burlier Anton!) A mine is really just a hole in the ground, and that was exactly what we entered. The masonry walls gave way to a slit opening less than a metre wide sloping downwards into the gloom, leading us to a rock ledge alongside a set of steel tracks. A rumbling signalled the approach of a big metal skip used to ferry people and equipment into the bowels of the mine.
We clambered in and wedged ourselves as best we could along the metal braces welded to the floor. Their purpose became quickly apparent, as we trundled off and the track curved downwards at an increasing incline. It was all I could do to stop my boots from slipping off the braces as I clutched the camera and filmed what I could of the descent before light vanished. It's not a journey for a claustrophobe; the tunnel narrowed dramatically and in the flicker of our headlamps I wondered if anyone had lost their helmet or worse.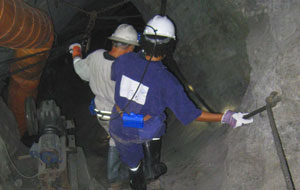 (Making our way into the mine. The graphite floor gave way to rock and puddles - both were as treacherously slippery as each other.)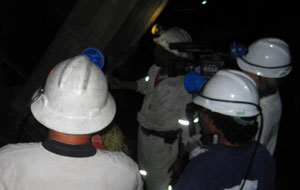 (Not exactly the best conditions for filming. The lack of light was a challenge, but if you can get headlamps to reflect off the rock walls you're in with a chance.)

Exiting what I christened the tanzanite taxi was no easy task - the skip pulled up on an angle at a set of steel rungs leading to a rock ledge. There was no way I could do that with camera and tripod, which was passed by Anton up to a friendly face belonging to a fit young miner by the endearing name of Sweetbert. Another spot of filming, then I shouldered the camera and set off again, descending all the while along a slippery, graphite covered rock path. When we reached a section where the walkway was a narrow wooden plank was wedged into the rockface I paused.
I think Sweetbert took one look at my face and said, "Here, let me take the camera". I gratefully handed it over and he sherpa'd it for the rest of the trek. It didn't appear to slow him one iota, but then again I suppose he knew the shaft like the back of his hand, having traversed it countless times and he was immeasurably fitter than me. We stopped for a quick geography lesson - Anton proved to be a gregarious, generous man with an easy manner and a stash of facts on the tip of his tongue - perfect for the camera. Plus he was big and strong, and kept a particular eye on Casta who unlike the rest of us had never been in a mine before and was bravely tackling the unknown. I felt confident he would be a good bloke to have around should anything go awry.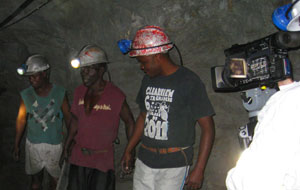 (Miners in the tunnels. By this time we'd descended some 200 metres diagonally into the ground, to a true depth of about 140 metres. I'm no trigonometry expert, but that's a pretty steep descent.)

The temperature was rising and the noise was increasing - we were nearing the action. Clusters of miners were coming and going now, some lugging heavy pneumatic drills. A sentry was stationed nearby, cradling a large gun. Huge sacks of bags and twine used to haul ore were stacked against the wall, and a host of men were slogging it out with shovels and picks. Given the conditions they had eschewed overalls. Their biceps were slick with sweat; their faces, be they back or white, wore the sheen and grit of their exertions. It was noisy, dirty, wet, and busy - the perfect place to do a piece to camera.
But there was no way my little dedo tv light would cut it in these conditions - so I arranged people strategically to shine their headlamps where it was needed. Unbelievably, I did it first take, That has never, ever happened before. I did it again just to make sure. I couldn't see the viewfinder screen in the gloom, or monitor my sound levels over the noise - it really was an on-the-wing job and I hoped it was okay. Time was against us. We needed to head back up the shaft the make our flight. but first I just had to see the actual mine face where the tanzanite was being extracted. We couldn't come all this way without a glimpse of a tanzanite seam.
Another 20 metres along amidst a mess of cable and tools and men shovelling ore into sacks, I got a glimpse of the line of lode. It was devilishly difficult to film, and I wished I had Eduardo, SBS's supercamerman on the job - I'm sure he'd have done better than I. Moments later we took our leave, Sweetbert again making light of my awkward and weighty gear. "But it's not heavy compared to the drills and ore sacks," he said. Looking at those sacks the size of a flourbag filled with ore I had no desire to lug one to compare.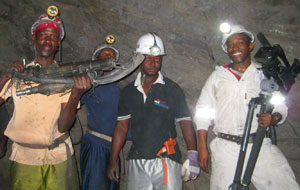 (Sweetbert with my camera, miners with equipment - neither exactly an easy load.)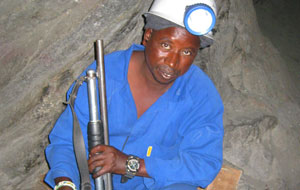 (Mine management reports the rate of theft is pretty much zero, as their miners are well paid for the industry. Still, they're taking no chances.)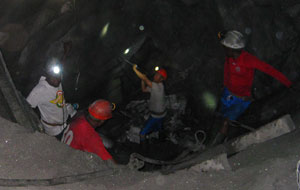 (Hot hard work. For those who think mining is largely mechanised, not so with tanzanite. Little has changed since the 1950s, picks and shovels reign.)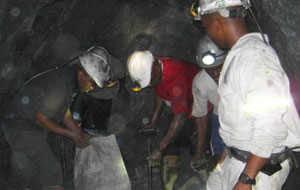 (At the mine face. You may be able to just make out the the pale fracture in the rear wall at the centre of the picture. This is the potentially tanzanite bearing ore seam.)
Scaling the slope was harder than I thought it would be - usually it's easier to find your footing going up rather than down, but I felt hot and breathless. Pause, catch breath, push on, pause, catch breath , push on…. until at last we were at the rock ledge awaiting the arrival of the tanzanite taxi. When it pulled up it was filled with half a dozen or more huge sacks of gear. Anton cursed under his breath and gave a piercing whistle. "Git some men down here NOW. Quickly! These people have a plane to catch."
There were grunts as blokes hoisted and hauled the leaden cargo up and over the metal rungs to the rock landing. Not one to stand by issuing orders Anton swung into action too, using his considerable muscle to single handedly haul up one of the last of the sacks that had become snagged on a corner of the skip. We scampered into the carriage for the reverse journey, this time backwards. "And to think people pay good money for sideshow rides compared to this!" I yelled to Anton , whose face broke into a broad grin.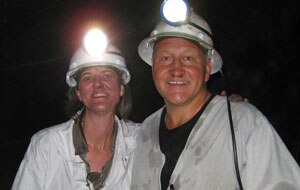 (Anton the giant. I made the mistake of trying to wipe the sweat of my face before going on camera… bad move!)
(A steep ascent over uneven terrain. And this was one of the less precipitous sections.)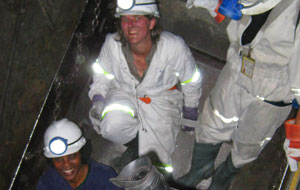 (Clambering into the tanzanite taxi for the return journey.)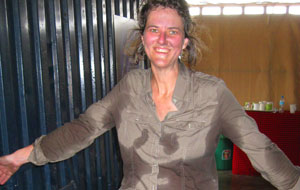 (I somehow can't imagine Janice Peterson surfacing like this. She'd magically emerge elegance intact, whereas I….well, you can see for yourself. And I have plane travel ahead dressed like this!)

Topside, it was absolute action stations. We were ten minutes ahead of schedule and hoped to use that time to stop and film the tanzanite fossickers who eke out a living scouring through the mine tailings deposited outside the security cordon. Off with the helmet and lamp, off with the gumboots to reveal two spots where my socks had slipped down, rubbed raw and grimed with graphitey dirt, out of the overalls to reveal tectonic plates of sweat stains across my shirt and pants. No time to shower though - let's go. Hurried goodbyes, a pat on the head for the tanzanite sniffing security dog, back through the security gates and into the fossickers' compound.
Initially they didn't want to be filmed, but a senior member eventually agreed. I made my way to where a group was screening the tailing with large sieves, and did a quick interview with the elder. One of the bystanders was a young man, very demanding with glassy eyes and two wounds on his head - oh oh, a trouble maker, probably on drugs. Meanwhile Don the policeman was interested in buying some uncut stones. He had walked to the rear of the 4WD and was bargaining. At the sight of money the crowd of ten became twenty, then closer to forty.
"Let's go," I said to Casta, who was interpreting the Swahili for me and couldn't see what was happening behind. The safety of Don and our driver John had become the priority, along with getting safely back into the car ourselves. The crowd was continuing to grow, and now included a trail of followers from where we had been conducting the interviews. Casta threaded her way to the back seat and I made it to the front, as Don worked his way to the other rear passenger door. The three of us were in, but John the driver was still caught back amongst the crowd, talking his way through in a stream of increasingly insistent Swahili.
Just then a man outside Don's window held up a bright green crystal studded rock a little larger than a golf ball. A committed rockophile, Don wanted it, but we begged him not to unlock the door or wind down the window, fearing the worst. When John managed to finally get into the drivers seat and shove the mass of bodies out of the way so that he could shut his door we breathed a sigh of relief. A lesson in how quickly a seemingly innocuous situate can potentially turn for the worse.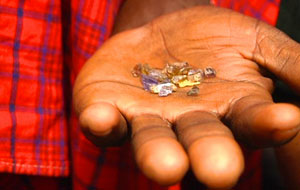 (A fossicker displays a selection of raw tanzanite stones, showing the range of colours. Rarely do they find anything much larger than a capsule, and it's mostly lesser quality.)

We were a few minutes down the road when Casta exclaimed, "I can't find the permits" A quick search confirmed they weren't in the car…. last seen at the mine. We hightailed it back at lightning speed, begging the security staff who'd seen us minutes before to let us through asap. We got back to the main building and Casta dashed inside, while I used the opportunity to properly stow my camera gear - we would be cutting it fine for the airport and every second was now critical.
Casta emerged clutching the precious envelope - without it our trip to the refugee camp would be pointless as we'd be unable to enter without this original permit. We tore back along the road, obscuring the fossickers in a cloud of dust. We pulled into the airport right on the close of boarding time - and by the time we got to the desk we were two minutes late. The Precision Air staff had a word amongst themselves and one of the young women began tapping at her keyboard to check us in. But then their manager appeared and told the staff to stop as we were late. Casta tried to negotiate - perhaps we could take only hand luggage? The precious minutes ticked away as the manager delayed and delayed more.
Finally the airport screens clicked up the worlds "Mwanza - boarding" and we knew that was that. We had a charter flight waiting at Mwanza for the flight to Kigoma, perhaps he could collect us? But the single engined Cessna couldn't handle such a lengthy round trip and the pilot had another booking for later that day. It was clear we wouldn't make Kigoma today. More phone calls and a wad of cash later, and we were on a flight back to Dar es Salaam, to catch a connecting flight to Mwanza, where we'd stay the night and reschedule the charter for the following morning. Not the best solution as it would cut into filming time, but the best we could find.
On the flight to Dar I finally got a brief glimpse of Kilimanjaro - we had crested the clouds and the peak above was mostly clear, giving me a distant view of this iconic flat topped mountain. A brief layover before our connecting flight to Mwanza, arriving late at the Starmax hotel to be served fish dinners that could each feed a family of four - no joke! We slumped exhausted into our beds, with the first meal of the day in our bellies. I drifted to sleep thinking "what a cracker of a day"!
(Karen Ashford travelled to Tanzania at the invitation of the Tanzanian government)
top
About this Blog
On assignment with SBS multimedia correspondent Karen Ashford.


Karen Ashford Adelaide-based SBS multimedia correspondent Karen Ashford files for Radio, TV and Online.
TV
Food
Films
Documentary
World News Australia
Sport
About SBS
Business
Internet and Technology
Cycling Central
Festival Reports
Tour De France